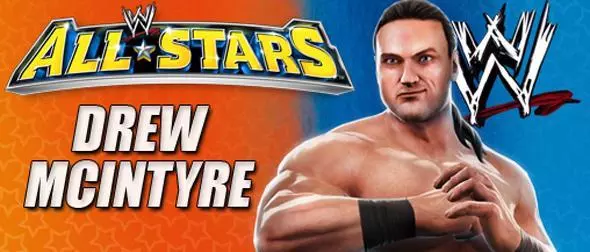 Drew McIntyre is featured as a playable character in the WWE All Stars Roster, as part of the WWE Superstar roster.
PROFILE INFO
Gender

Male

Roster

WWE Superstar

Alternate Attire

Current Black & Blue; Debut Blue & White Shorts

Real Life Profile

Drew McIntyre
Height: 6-foot-5
Weight: 253 pounds
From: Ayr, Scotland
Signature Moves: Mounted Punches & Head Butt, Scot Drop, Inverted Alabama Slam, Tilt a Whirl
Finisher: Future Shock
WWE All Stars Class: Brawler

Drew McIntyre is relatively new to WWE but has already made a strong impact. Like his countryman Roddy Piper, Drew is a fierce brawler and while he lacks Piper's punch speed, he makes up for it with deep combos that have a lot of knockdown capability. Even Drew's grapples are designed to set up punishing strikes. Follow your quick grabs with a series of quick strikes to deal damage and take the opponent to the mat.
SCREENSHOTS
ENTRANCE & SIGNATURE MOVES