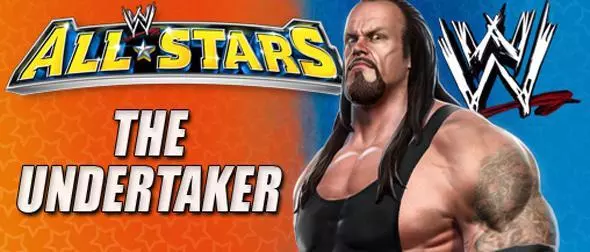 Undertaker is featured as a playable character in the WWE All Stars Roster, as part of the WWE Superstar roster.
PROFILE INFO
Gender

Male

Roster

WWE Superstar

Alternate Attire

Current; Old School (Legends Of WrestleMania)

Real Life Profile

The Undertaker
Height:
6-foot-10
Weight:
299 pounds
From:
Death Valley
Signature Moves:
Tombstone Piledriver; Chokeslam; Last Ride; Old School
WWE All Stars Class:
Brawler
At nearly seven feet in height, he could easily be mistaken for a Big Man, and his move set reflects this and much more. Undertaker has the speed and strike combo chains of a Brawler, combined with a Big Man's ability to toss his opponent around the ring and a Grappler's ability to lock on submissions. Opponents rarely know what's coming until it's too late. One strike chain may lead into the Hell's Gate submission while another sends the opponent flying into to the turnbuckle, in a perfect position for Undertaker's Old School signature move. The key to Undertaker is to make use of this versatility.
SCREENSHOTS
ENTRANCE & SIGNATURE MOVES