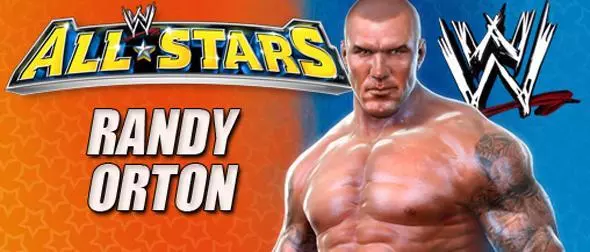 Randy Orton is featured as a playable character in the WWE All Stars Roster, as part of the WWE Superstar roster.
PROFILE INFO
Gender

Male

Roster

WWE Superstar

Alternate Attire

Black & White; Black & Red

Real Life Profile

Randy Orton
Height: 6-foot-4
Weight: 245 pounds
From: St. Louis, Missouri
Signature Moves: RKO; Punt Kick; Inverted Headlock Backbreaker; Orton Stomps
WWE All Stars Class: Brawler


The WWE's Apex Predator, Randy Orton is as ruthless in WWE All Stars as he is on Raw. His striking combos have numerous built in stuns and can also chain to quick takedowns, allowing Orton to unleash brutal signature moves like his ground stomps or his running punt. By far, Orton's most dangerous weapon is his finisher. The RKO is the fastest finisher in the game and once charged can be launched "from out of nowhere". Unless you are in the middle of being hit, chances are, you can land your RKO.
SCREENSHOTS
ENTRANCE & SIGNATURE MOVES