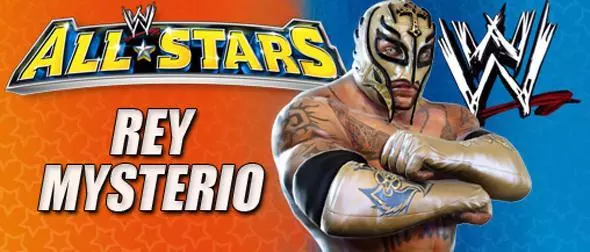 Rey Mysterio is featured as a playable character in the WWE All Stars Roster, as part of the WWE Superstar roster.
PROFILE INFO
Gender

Male

Roster

WWE Superstar

Alternate Attire

Gold (SVR2010); Red (SVR2007); Mexican (SVR2006)

Real Life Profile

Rey Mysterio
Height: 5-foot-6
Weight: 175 pounds
From: San Diego, California
Signature Moves: 619; Wheelbarrow Bulldog; Diving Splash
WWE All Stars Class: Acrobat


The WWE's high flying luchador is one of WWE All Star's premiere Acrobats, a Superstar who is always at his best when in constant motion. Start off the match with some medium range kicks to build up enough energy to run, then start working the ropes and the turnbuckles. When you get to grappling range, perform a quick grab and then kick off the opponent's chest, combo into a hurricanrana, taking the opponent to the mat and leaving him open for a high flying turnbuckle attack like Rey's signature Angel's Wings. Rey can perform his 619 from anywhere inside the ring, so don't hold back once your Finisher Meter is full!
SCREENSHOTS
ENTRANCE & SIGNATURE MOVES