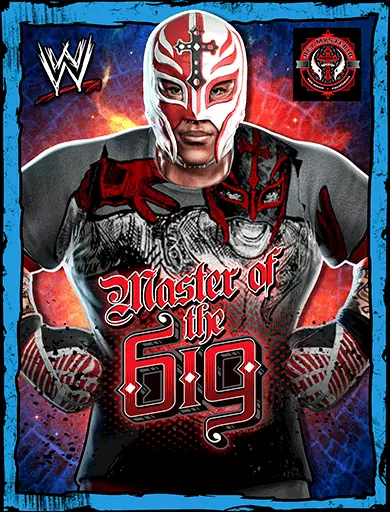 Rey Mysterio is featured as a playable character in the WWE Champions Roster, as part of the WWE Superstar roster in the Modern Era.
Rey Mysterio is classed as a Focused Acrobat in the game.
PROFILE INFO
Gender

Male

Roster

WWE Superstar

Nickname / Version

Master of the 619

Era

Modern Era

Superstar Class

Acrobat

Ability Style

Focused

Alternate Attire

WrestleMania 22; Royal Rumble '18

Alternative Versions

Rey Mysterio '10Rey Mysterio '21Rey Mysterio '22Rey Mysterio '97

Real Life Profile

Rey Mysterio
Even at 5-foot-6 and 175 pounds, a lack of size didn't stop the incomparable Rey Mysterio from achieving giant dreams like capturing the WWE Championship or outlasting 30 Superstars to win the Royal Rumble as the No. 2 entrant. Whether he was standing up to a dangerous giant like Kane or flying down from the top of a steel cage, The Ultimate Underdog is known for refusing to be intimidated inside ring. Trained in the proud Mexican tradition of lucha libre before he was even old enough to drive, Rey Mysterio adopted his ring name in tribute to his uncle and hid his face under a mask as lucha custom dictates. In a world of hooded high-flyers, the exhilarating Mysterio stood out enough to earn the attention of ECW and WCW where his thrilling bouts with such rivals as Eddie Guerrero and Psicosis became the stuff of legend among sports-entertainment fans. With his revolutionary style, Mysterio overcame the odds to enjoy a championship career that is respected by fellow Superstars and the WWE Universe alike, making him one of the most well-known and beloved competitors of all time.
SPECIALS: Hurricanrana, 619, Mysterio Express, Tilt-A-Whirl Headscissors, Springboard Crossbody, Diving Splash
FINISHER: West Coast Pop
TAG LINKS: Modern Era, WCW, RAW, Mexican, SmackDown, WrestleMania 22, WrestleMania 35