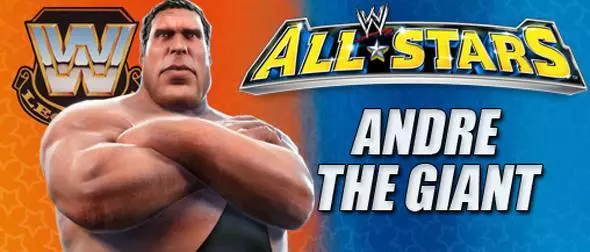 Andre The Giant is featured as a playable character in the WWE All Stars Roster, as part of the Legend roster.
PROFILE INFO
Gender

Male

Roster

Legend

Alternate Attire

Normal; Sideburns (WM 5); Red Attire w/Long Hair (80's)

Real Life Profile

André the Giant
Height: 7-foot-4
Weight: 540 pounds
From: Grenoble, France
Signature Moves: Corner Butt Slam, Scoop Slam Toss, Step on Chest, Jumping Head Scissors.
Finisher: Lifting Head Butt
WWE All Stars Class: Big Man

Capable of charging and storing his most powerful punch, Andre can bash an opponent back against the ropes and then send them flying out of the ring with a well placed kick, giving him time to charge up a second punch or build up his finisher with some taunts. For a devastating combo, toss your opponent into the turnbuckle with a charged grab, then follow up with a series of signature butt slams. Once they hit the floor, grind your foot into their chest or knock them out with Andre's head butt finisher.
SCREENSHOTS
ENTRANCE & SIGNATURE MOVES