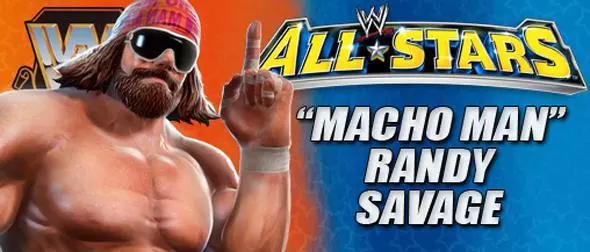 Macho Man Randy Savage is featured as a playable character in the WWE All Stars Roster, as part of the Legend roster.
PROFILE INFO
Gender

Male

Roster

Legend

Alternate Attire

Orange & Yellow; Multi-Colored; Purple & Yellow

Real Life Profile

Randy Savage
Height: 6-foot-2
Weight: 237 pounds
From: Sarasota, Florida
Signature Moves: Diving Elbow Drop; Atomic Drop
WWE All Stars Class: Acrobat


The Macho Man Randy Savage is one of the most diverse and well balanced Legends in WWE All Stars. By class, he's an old-school acrobat, but that only tells part of the story. Savage is equally proficient in delivering close range, fist and elbow strikes as he is at delivering running attacks. Capable of performing signature moves against standing and grounded opponents, from runs or from the turnbuckle, there is never a moment in a match were Savage isn't a dangerous opponent.
SCREENSHOTS
ENTRANCE & SIGNATURE MOVES