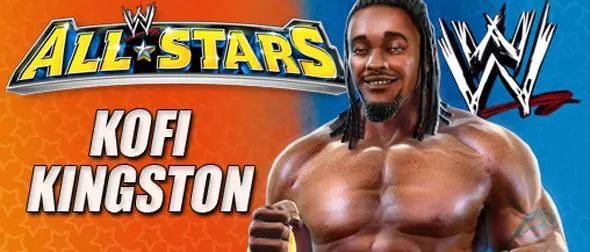 Kofi Kingston is featured as a playable character in the WWE All Stars Roster, as part of the WWE Superstar roster.
PROFILE INFO
Gender

Male

Roster

WWE Superstar

Alternate Attire

Yellow; Green

Real Life Profile

Kofi Kingston
Height: 6-foot-2
Weight: 221 pounds
From: Ghana, West Africa
Signature Moves: Trouble In Paradise; SOS; Boom Boom Leg Drop
WWE All Stars Class: Acrobat


Kofi Kingston is the very definition of innovative offense. A high flier with good striking skills, Kofi is dangerous up close, delivering kick combos that can chain into hurricanranas and from a distance, using the ropes to deliver flying cross body takedowns. Kofi's signature moves give him a lot of options, quickly closing distance with the always dangerous Trouble in Paradise or finishing off a downed opponent with the Boom Drop. Kofi's SOS finisher leads directly into a pin, often allowing Kofi to secure a pinfall before the opponent is fully in the red.
SCREENSHOTS
ENTRANCE & SIGNATURE MOVES