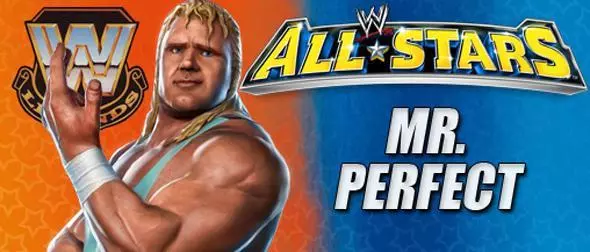 Mr. Perfect is featured as a playable character in the WWE All Stars Roster, as part of the Legend roster.
PROFILE INFO
Gender

Male

Roster

Legend

Alternate Attire

Turquoise & Black; Green & Black

Real Life Profile

Mr. Perfect Curt Hennig
Height: 6-foot-3
Weight: 257 pounds
From: Robbinsdale, Minnesota
Signature Moves: Perfect-Plex; Inside Leg Drop; Atomic Drop
WWE All Stars Class: Grappler


Mr. Perfect is a perfect example of the Grappler class in WWE All Stars. Combining long grapple chain combos, submissions and running strikes, Perfect is best played at close range, constantly pressing the advantage, locking up whenever possible and then chaining deeper into his combos. Mr. Perfect's finisher, the Perfect Plex, goes directly into a pin, often allowing you to grab victory earlier than your opponent is expecting.
SCREENSHOTS
ENTRANCE & SIGNATURE MOVES