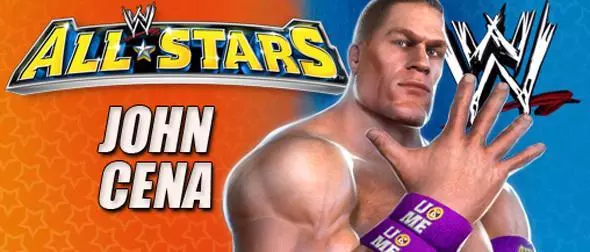 John Cena is featured as a playable character in the WWE All Stars Roster, as part of the WWE Superstar roster.
PROFILE INFO
Gender

Male

Roster

WWE Superstar

Alternate Attire

Purple; Orange; Chain Gang Assault Battalion (SVR 2008)

Real Life Profile

John Cena
Height: 6-foot-1
Weight: 240 pounds
From: West Newbury, Massachusetts
Signature Moves: Attitude Adjustment; Air Legdrop; 5 Knuckle Shuffle; Proto Bomb
WWE All Stars Class: Brawler


The Champ is here! John Cena is a true hybrid in WWE All Stars, half brawler, half grappler with the ability to chain his strikes into grabs and holds that can take his opponent to the ground and set them up for everything from submissions to good old fashioned ground and pound. Much like his real life counterpart, Cena excels at chaining together signature moves. Build up to at least two bars of energy, then execute Cena's Suplex Side Slam. This will place your opponent in the perfect position for a Five Knuckle Shuffle. If you time it right and have built up your Finisher, you can end the combo with the Attitude Adjustment!
SCREENSHOTS
ENTRANCE & SIGNATURE MOVES