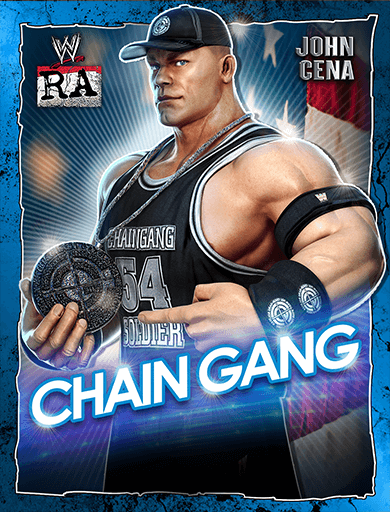 Gender

Male

Nickname / Version

Chain Gang

Alternative Versions

John CenaJohn Cena '02John Cena '07John Cena '09John Cena '11John Cena '16 John Cena '16 (Mutant)John Cena '19John Cena '20

Era

Ruthless Aggression

Superstar Class

Acrobat

Ability Style

Defensive
Really, now. Who ever saw John Cena coming? When he debuted on SmackDown in June 2002, he was just a beefy guy in purple trunks. Within a year of his introduction, he transformed into the battle-rapping, chain-wielding "Doctor of Thuganomics." Now, he's the biggest star in WWE, proving that anything is possible.
SPECIALS: Sitout Hip Toss, Five Knuckle Shuffle, Leaping Clothesline, Throwback, Sitout Powerbomb, Springboard Stunner
FINISHER: FU
TAG LINKS: Ruthless Aggression (Formerly Modern Era), Nexus, WrestleMania 22, WrestleMania 36