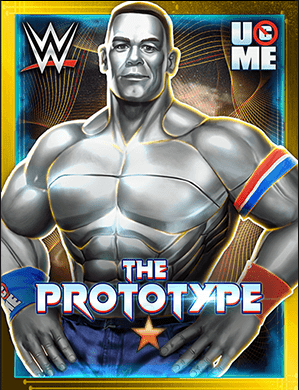 Gender

Male

Nickname / Version

The Prototype

Alternative Versions

John CenaJohn Cena '02John Cena '05John Cena '07John Cena '09John Cena '11John Cena '16John Cena '20

Era

Modern Era

Superstar Class

Showboat

Ability Style

Focused
He's a crossover character from the WWE Mutants figure series, released back in 2016 by Mattel.
His opponents might see their faces reflected in John Cena's new mutated body of steel, but make no mistake, he is still the face that runs the place. His metallic body bashes all foes!
SPECIALS: Mutated Steel Skin, Mutated Shoulder Block, Mutated Five Knuckle Shuffle, Mutated Protobomb, Mutated Sitout Powerbomb
FINISHERS: Mutated Lightning Fist, STF
TAG LINKS: Modern Era, WrestleMania 22, WrestleMania 36, Bayley & John Cena, WWE Mutants