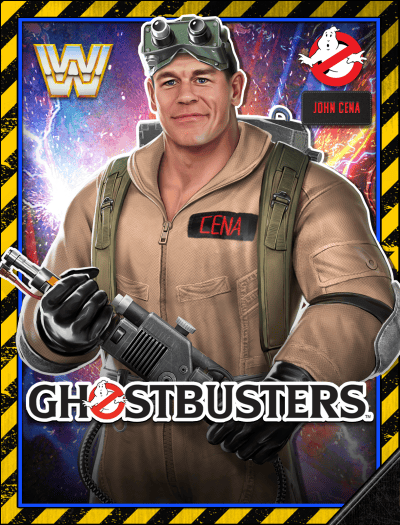 Gender

Male

Nickname / Version

Ghostbusters

Alternative Versions

John CenaJohn Cena '02John Cena '05John Cena '07John Cena '09John Cena '11John Cena '16 John Cena '16 (Mutant)John Cena '20

Era

Legends Era

Superstar Tier

A Tier

Superstar Class

Acrobat

Ability Style

Aggressive

Promoter

Trainer
Loosely based off of his 2019 WWE Ghostbusters figure.
Bravely leading the charge, John Cena takes on the role of point-man for the WWE Ghostbusters squad. Never backing down from a challenge and fearing nothing from this world or the next, those ghosts will never see him coming!
SPECIALS: Electrifying Ghostbuster, '84 Throwback, Cross the Streams, Diving EKG, Proton Bomb, Central Park Sunset
FINISHERS: Heat 'Em Up, Ghost Wrangler
TAG LINKS: Legends Era, Ghostbusters