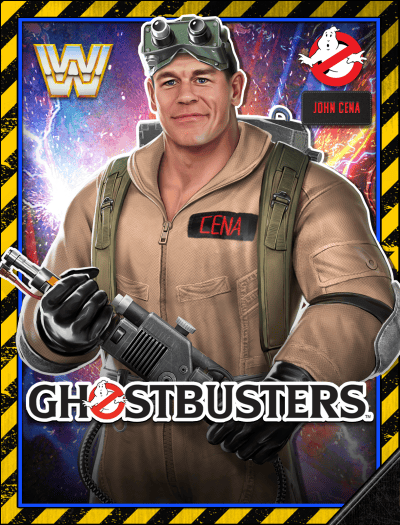 John Cena '19 is featured as a playable character in the WWE Champions Roster, as part of the WWE Superstar roster in the Legends Era.
John Cena '19 is classed as a Aggressive Acrobat in the game.
PROFILE INFO
Gender

Male

Roster

WWE Superstar

Nickname / Version

Ghostbusters

Era

Legends Era

Superstar Class

Acrobat

Ability Style

Aggressive

Superstar Tier

A Tier

Promoter

Trainer

Alternative Versions

John CenaJohn Cena '02John Cena '05John Cena '07John Cena '09John Cena '11John Cena '16John Cena '16 (Mutant)John Cena '20

Real Life Profile

John Cena
Loosely based off of his 2019 WWE Ghostbusters figure.
Bravely leading the charge, John Cena takes on the role of point-man for the WWE Ghostbusters squad. Never backing down from a challenge and fearing nothing from this world or the next, those ghosts will never see him coming!
SPECIALS: Electrifying Ghostbuster, '84 Throwback, Cross the Streams, Diving EKG, Proton Bomb, Central Park Sunset
FINISHERS: Heat 'Em Up, Ghost Wrangler
TAG LINKS: Legends Era, Ghostbusters