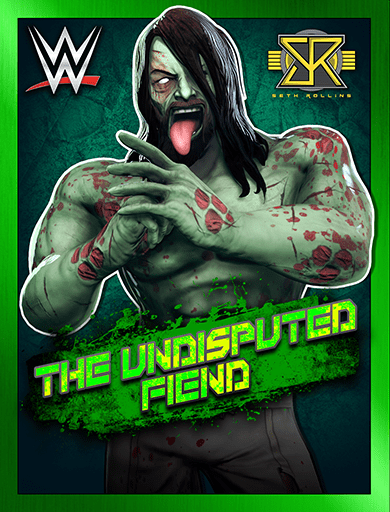 Gender

Male

Nickname / Version

The Undisputed Fiend

Alternative Versions

Seth RollinsSeth Rollins '12Seth Rollins '13 Seth Rollins '15Seth Rollins '17Seth Rollins '22

Era

Modern Era

Superstar Class

Technician

Ability Style

Aggressive

Real Life Profile

Seth Rollins
Based off his WWE Zombies 2017 figure.
This is Seth Freaking Rollins. Now turned zombie, he's feeling even more freaking good. Fitting, since it's long been said that the freaks come out at night and as "The Architect" of the Zombies, Seth has the blueprints to mayhem and madness beyond the grave.
SPECIALS: Shambling Side Kick, Tornado Z-DT, Rotting Enzuigory, Decomposing Shiranui, Sky High: Reanimated, Gruesome Turnbuckle Powerbomb
FINISHER: Putrid Splash
TAG LINKS: Modern Era, Zombies, Zombies 2017-2018, Zombies 2018, WrestleMania 35, WrestleMania 36