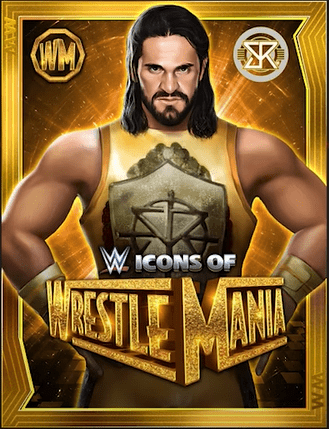 Gender

Male

Nickname / Version

Icons of WrestleMania

Alternative Versions

Seth RollinsSeth Rollins '12Seth Rollins '13 Seth Rollins '15Seth Rollins '17 (Zombie)Seth Rollins '22

Era

Icons of WrestleMania

Superstar Class

Showboat

Ability Style

Chaotic
Triple H's betrayal to Rollins started this feud that was building to a fever pitch for several months, but it didn't go as planned when Rollins re-injured his knee during a fight. Later on, the unsanctioned match between Seth Rollins and Triple H was decided to take place in WrestleMania, which would wrap up three years of storytelling in a single match. After 8 weeks of recovery from his injury, Rollins wasted no time taking the fight to Triple H in WrestleMania 33, Seth Rollins sure couldn't walk properly after the match but was called the Kingslayer for a reason as he completely destroyed Triple H and Stephanie with a Superkick and then gave Triple H a taste of his own medicine by using his signature move "Pedigree"
SPECIALS: Tornado DDT, Straight Side Kick, Turnbuckle Powerbomb, Diving Double Foot Stomp, Sky High
FINISHERS: Shiranui, Rear Naked Choke
TAG LINKS: Icons of WrestleMania, WrestleMania 35, WrestleMania 36