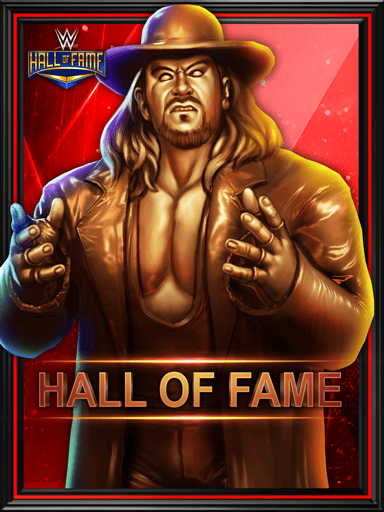 Gender

Male

Nickname / Version

Hall of Fame

Alternative Versions

UndertakerUndertaker '01Undertaker '10Undertaker '16Undertaker '20Undertaker '94Undertaker '98

Era

Hall of Fame

Superstar Class

Powerhouse

Ability Style

Aggressive

Alternate Gear

Silver Edition; Gold Edition
The Undertaker is a grim reaper of justice, his name permanently etched like an epitaph on the history books of WWE. No grave could hold him and no devil would have him. There can only be one suitable resting place for the almighty Deadman: the WWE Hall of Fame. The Phenom was inducted into the WWE Hall of Fame as part of the Class of 2022.
SPECIALS: Chokeslam, Soup Bones, Old School, Leaping Clothesline, Last Ride
FINISHERS: Tombstone Piledriver, Hell's Gate
TAG LINK: Hall of Fame