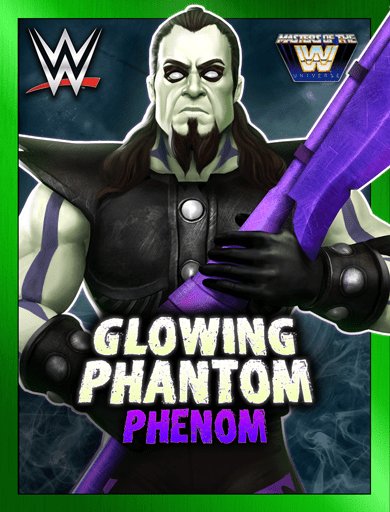 Gender

Male

Nickname / Version

Glowing Phantom Phenom

Alternative Versions

UndertakerUndertaker '01Undertaker '10Undertaker '16Undertaker '22Undertaker '94Undertaker '98

Era

Modern Era

Superstar Class

Technician

Ability Style

Chaotic
Based off of his Mattel's Masters of the WWE Universe figure.
Summoned from Time and Space by the Evil Skull King to do his bidding. Even the braves tremble before the mere sight of the Glowing Phantom!
SPECIALS: Glowing Phantom Diving Leg Drop, Glowing Phantom Leg Drop, Glowing Phantom Falling Powerbomb, Glowing Phantom Running Dropkick, Glowing Phantom Gutbuster
FINISHERS: Glowing Phantom Last Ride, Hell's Gate
TAG LINKS: Modern Era, Masters of the WWE Universe, WrestleMania 22, WrestleMania 36