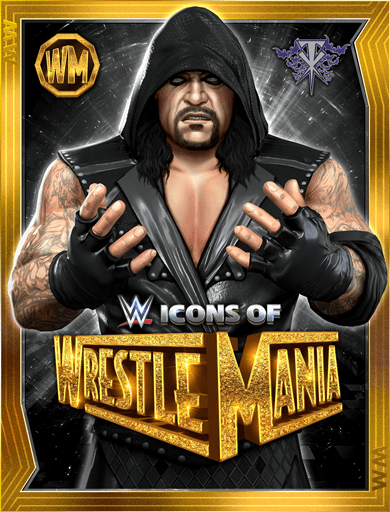 Gender

Male

Nickname / Version

Icons of WrestleMania

Alternative Versions

UndertakerUndertaker '01Undertaker '16Undertaker '20Undertaker '22Undertaker '94Undertaker '98

Era

Icons of WrestleMania

Superstar Class

Striker

Ability Style

Focused
The epic match between Shawn Michaels and the Undertaker at WrestleMania 26 was the culmination of a long rivalry between the two. The two battled at WrestleMania 25, but Shawn Michaels was unsuccessful in ending The Undertakers streak. Not long after, Shawn Michaels challenged him to a rematch which he refused. After Shawn Michaels caused him to lose his World Heavyweight Championship to Chris Jericho by sneaking into his match and performing a Sweet Chin Music on him, the Undertaker finally agreed to the rematch. The matchup between Shawn Michaels and the Undertaker was the 10th and final match of WrestleMania 26 and was billed as "Streak vs Career". Ultimately the Undertaker would take the win, extending his streak to 18-0. The two shook hands and embraced after the match, this would be Michael's last WrestleMania.
SPECIALS: Leaping Clothesline, Soup Bones, Last Ride, Chokeslam, Old School
FINISHERS: Tombstone Piledriver, Hell's Gate
TAG LINKS: Icons of WrestleMania, WrestleMania 22, WrestleMania 36