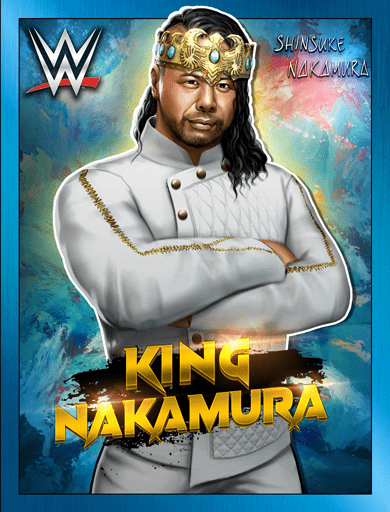 Gender

Male

Nickname / Version

King Nakamura

Alternative Versions

Shinsuke NakamuraShinsuke Nakamura '17Shinsuke Nakamura '18

Era

Modern Era

Superstar Class

Acrobat

Ability Style

Chaotic
Scoring monumental victories over the likes of John Cena, Randy Orton, Dolph Ziggler and anyone else who got in his way, Nakamura has used his hard-hitting style to win the 2018 Royal Rumble Match, capture both the Intercontinental Title and United States Championship two times each and subsequently the SmackDown Tag Team Titles with Cesaro. Can anyone hit hard enough to slow down The King of Strong Style? Perhaps, but you'll have to be fast enough to hit him at all.
SPECIALS: El Niño, Flying Kick, Landslide, Reverse Exploder Suplex, Good Vibrations, Enzuigiri
FINISHER: Kinshasa
TAG LINKS: Modern Era, SmackDown