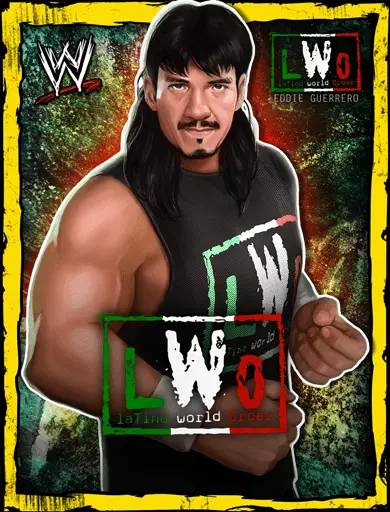 Eddie Guerrero '98 is featured as a playable character in the WWE Champions Roster, as part of the Legend roster in the Attitude Era.
Eddie Guerrero '98 is classed as a Chaotic Showboat in the game.
PROFILE INFO
Gender

Male

Roster

Legend

Nickname / Version

LWO (Latino World Order)

Era

Attitude Era

Superstar Class

Showboat

Ability Style

Chaotic

Alternative Versions

Eddie GuerreroEddie Guerrero '00Eddie Guerrero '05Eddie Guerrero '06

Real Life Profile

Eddie Guerrero
Feeling disrespected and betrayed by his employer Eric Bischoff, Eddie Guerrero proceeded to form The Latino World Order in 1998 along with other Mexican born luchadors. The goal was to fight the injustice that he and his people had to endure during the time.
SPECIALS: Three Amigos, Tilt-A-Whirl Backbreaker, Sunset Flip Powerbomb, European Uppercut, Reversal
FINISHERS: Lasso from El Paso, Frog Splash
TAG LINKS: Attitude Era, Mexican, The Latino World Order, Best of 2021