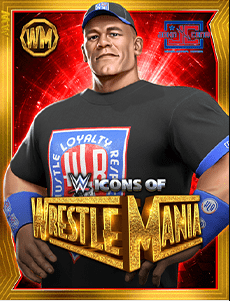 Gender

Male

Nickname / Version

Icons of WrestleMania

Alternative Versions

John CenaJohn Cena '02John Cena '05John Cena '07John Cena '11John Cena '16 John Cena '16 (Mutant)John Cena '19John Cena '20

Era

Icons of WrestleMania

Superstar Class

Powerhouse

Ability Style

Focused

Real Life Profile

John Cena
WWE scheduled a Triple-Threat match between John Cena, Edge, and Big Show for the World Heavyweight Championship at WrestleMania 25. The bell rang and Big Show & Edge teamed up to take down John Cena. However, their alliance didn't last long. In the past, John Cena has lifted other monsters before, but lifting 'The Giant' Big Show and Edge at the same time was something no one imagined Cena could do. John Cena won the fight and became the new World Heavyweight Champion by dropping Edge onto Big Show with an Attitude Adjustment.
SPECIALS: Leaping Shoulder Block, Throwback, Five Knuckle Shuffle, Emerald Flowsion, Protobomb
FINISHERS: Attitude Adjustment, STF
TAG LINKS: Icons of WrestleMania, WrestleMania 22, WrestleMania 36