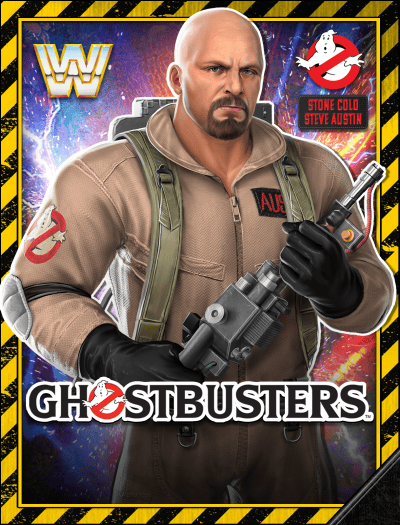 Gender

Male

Nickname / Version

Ghostbusters

Alternative Versions

Steve AustinSteve Austin '03Steve Austin '09Steve Austin '17 Steve Austin '21 Steve Austin '92Steve Austin '97

Era

Legends Era

Superstar Tier

S Tier

Superstar Class

Showboat

Ability Style

Chaotic

Promoter

Trainer
Based off of his 2019 Ghostbusters figure.
The true wild card of the WWE Ghostbusters, Steve Austin faces down the supernatural with an unhinged grin and an unpredictable gleam in his eye. What better way to fight back against otherworldly chaos than with some chaos of your own?!
SPECIALS: Ghost-Buster, Leapfrog Body Gozer-tine, Sewer Stomp, Lou Vinz Press, Diving Proton Elbow Drop, Ghost Check, Slimebuster
FINISHER: Stone Cold Slimer
TAG LINKS: Legends Era, Ghostbusters