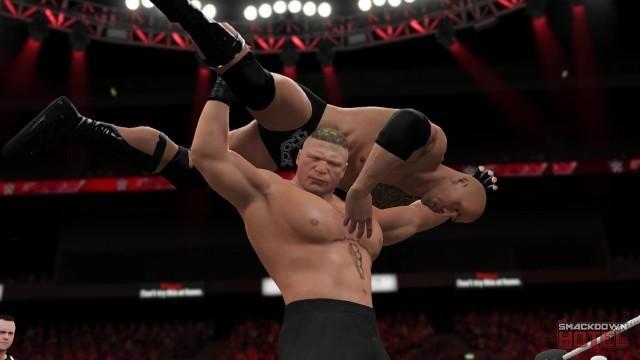 Xbox and WWE 2K have announced that WWE 2K16 will be free to download and play on Xbox One next week, from June 16th to 19th only for Xbox Live Gold Members, as part of "Xbox Live Gold's Free Play Days".
Here's the official statement from Xbox official webstie:

T

o celebrate the excitement of E3 and the upcoming WWE Money in the Bank pay-per-view on June 19, 2K and Xbox are teaming up to deliver WWE 2K16 for free to Xbox Live Gold members all weekend as part of Xbox Live Gold's Free Play Days.
Starting Thursday, June 16 and running through on 11:59PM PT Sunday, June 19 the free play session allows every Xbox Live Gold Member to experience the hard-hitting excitement of WWE 2K16 with a simple download. And if you'd like to continue the fun after the free period, WWE 2K16 will be offered at a special promotional price all week long.

All Gamerscore and Achievements earned during the WWE 2K16 Free Play Days period are yours to keep, and your save and game data will carry on if you decide to take advantage of the special promotional pricing or buy the game another time down the road. Download WWE 2K16 for free beginning June 16 by clicking on the Gold Member area on the home dashboard or get it directly from the Xbox stor

e.

Source: Xbox.com