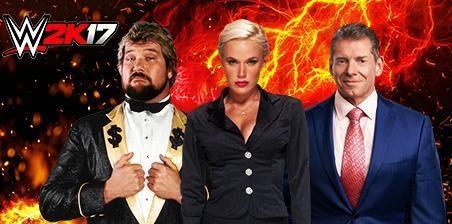 In WWE 2K17, for the first time ever, you will be able to assign up to 3 Managers to a Superstar in a match!
As always, you can assign any playable Superstar as a Manager, as well as the following 6 exclusive managers that we have added to our WWE 2K17 Roster Page:
Bobby Heenan
Lana
Mr. McMahon (Manager)
Paul Heyman
Stephanie McMahon (Manager)
Ted DiBiase
In addition, entrances with managers have finally received much needed love this year: now, if one or more Managers are in a Stable/Team with the chosen Superstar, they will use together their specific Team Entrance, while any additional manager assigned follows along with the generic motions.

For example, if all four Wyatt Family members are in a Team, they will come out all together to their specific Team Entrance regardless of who is the Superstar that was selected as a competitor - and yes, that means that specific 4-man entrances make their debut in the series!

Check out below this video by our friend Youtuber TonyPizzaGuy for some examples of manager entrances in action!