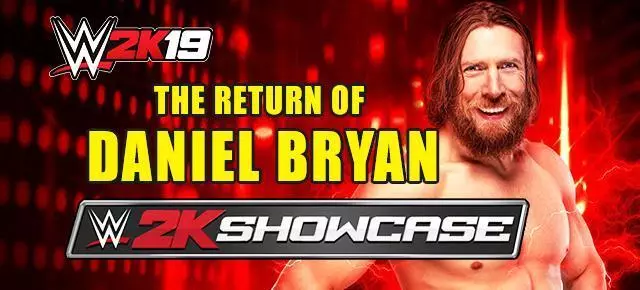 2K announced today for WWE 2K19 the return of the 2K Showcase Mode, the story-driven campaign that we've come to know in recent WWE Games.
WWE 2K19's 2K Showcase Mode will be honoring Daniel Bryan's legendary career, allowing players to relive the most epic moments, the highlights and the challenges that have made him the WWE Superstar he is today.
The "Return of Daniel Bryan" Showcase features vignettes with historic WWE footage and Daniel Bryan's own words that give context and backstory to the subsequent matches that gamers will play through, enabling players to truly feel the adversity that Daniel Bryan has faced each step of his WWE career.
Fight for his dream by competing in 11 objective-based legendary matches, as well as one additional "surprise" match, playing through variations of Daniel Bryan and unlocking historic arenas, Superstars, attires and championships.
Matches confirmed so far include Bryan's battle against John Cena from Velocity in 2003 at the beginning of their WWE careers, the match where Daniel Bryan & Kane won the WWE Tag Team Championship at Night of Champions 2012, the Street Fight against Randy Orton from Raw in 2013, as well as the showdown between Bryan and Triple H that opened WrestleMania XXX.
We can definitely expect to see other iconic matches and moments included, such as Bryan historic win of the WWE World Heavyweight Championship at WrestleMania XXX, his match against John Cena at SummerSlam 2013, and more.
WWE 2K19 2K SHOWCASE MODE TRAILER:

WWE 2K19 2K SHOWCASE MODE SCREENSHOTS:

2K SHOWCASE FACTS:
15 Daniel Bryan video interview packages, with a combined run time of more than 25 minutes
20 story-centric video cutscenes
11 historical matches, along with one surprise match, for a total of 12 matches
Nine historic arenas, including Velocity and WrestleMania XXX
11 different Daniel Bryan character models, with each having unique appearances and movesets
Eight new entrances and 11 new victory scenes

More specifically, Daniel Bryan has four new entrances and six new victory scenes.
Team Daniel with Kane as part of Team Hell No for a special surprise.
---
Take a look at the 2K Showcase Mode Official Opening Intro and also check out the 2K Developer Blog Post Interview for direct insight and behind the scenes details on the creation of the mode.
The 2K Showcase Mode was featured in WWE Games for the first time in WWE 2K15 for a total of 5 playable stories, two on the main disc, and three additional ones released as DLC. It appeared again in WWE 2K16 showcasing Stone Cold Steve Austin Career, as well as in WWE 2K17 although exclusively as part of the Hall of Fame DLC Pack. The mode was then absent last year WWE 2K18, but is now making its awaited return in WWE 2K19 focusing on the historic career of Daniel Bryan.
For more info on WWE 2K19 check out the News Section, and the WWE 2K19 Roster Page to see all the Superstars confirmed so far!
Note: Announcement and assets provided by 2K.