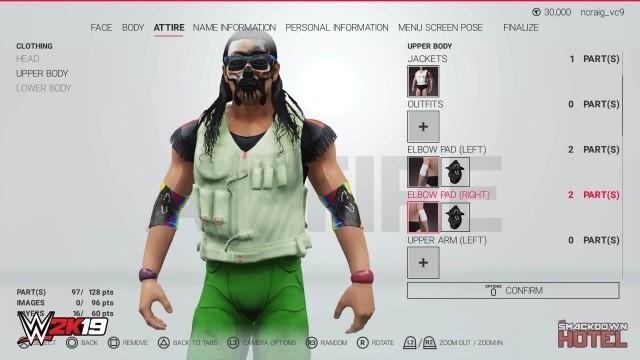 The final entry in the multi-part WWE 2K19 Features Round-up is here, featuring the Creation Suite! Here is everything you need to know about new Create-a-Superstar options, block bodies, arena filters, side plates, and more.
PART FOUR: Creation Suite
Some people want to customize absolutely every detail of their WWE 2K characters. Others just want a silly-looking or badass character with minimal effort. In WWE 2K19, you have plenty for both preferences.
Create-a-Superstar Randomizer
The new Custom Superstar randomizer builds a complete character with the press of a button. You can keep tapping as much as you want to see what the game comes up with. The best part is that randomizer selects a unified color theme so that all the attire matches. If you like the attire, but not necessarily the colors, you can just randomize the color theme and keep everything else the same. If you like everything except, say, a glove, you can swap it out for a different one and the new glove will match the color theme. The randomizer isn't just for the whole character. You can also focus the randomizer on individual details like the face, body, attire, etc. as well.
Mirroring Attire
When creating the perfect character, saving time is key. That's why for WWE 2K19 2K added a mirroring feature. If you create a custom glove, elbow pad, or knee pad for example, you can mirror it over onto the opposite limb instead of having to make it all over again. The item will retain logo placement, color, material – basically everything you'd want.
Block Bodies
You've probably seen these in YouTube videos by now. You can equip your character with a block body attire that makes them look kind of like a cardboard box person. You can edit the outer box surface pixel by pixel to make a lo-fi version of your favorite WWE Superstar, create old-school pixel characters, or design something completely new.
New Environment Filters
In Create-an-Arena, you now have the option to adjust all sorts of visual filters. Tweak the hue, saturation, and contrast. Add in some fog to introduce a spooky vibe. Or you can play around with various lighting templates including a single spotlight on the center of the ring. In Create-a-Show, there is also a new Cel-Shaded filter to give everything a comic book look.
Custom Side Plates and Money in the Bank Briefcases
You now have an option to create custom side plates to add to real WWE Championships or custom Championships you've made. Accurate side plates are tied to WWE Superstars to automatically change out whenever the title changes hands. This works the same way when you create custom side plates and tie them to created Superstars.
Money in the Bank briefcases are now customizable as well. Change the color of the case to whatever you want and add logos to make them your own.
---
For more info on WWE 2K19 check out the News Section, and the WWE 2K19 Roster Page to see all the Superstars included in the game!