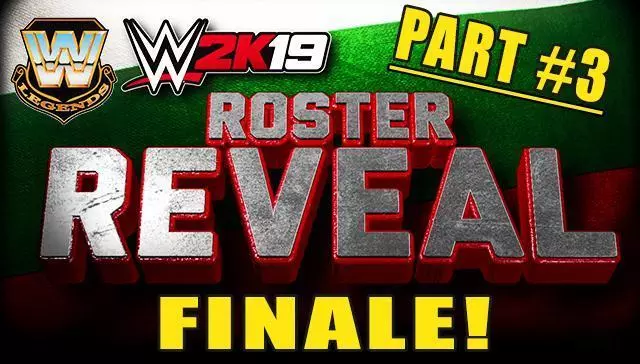 It's time for the third and final part of the WWE 2K19 Roster Reveal!
This time Rusev and Lana are joined by "The Bar" members Sheamus and Cesaro to announce the last additions to the WWE 2K19 Roster. After confirmations from the all brands of the current roster in the previous two episodes, week 3 brings Legends and more characters!
Stay tuned on this page to find out all the uncovered characters in real time and make sure to also keep an eye on our Twitter page for live updates!
Full List of the Superstars and Women Confirmed in the WWE 2K19 Roster Reveal Part #3
:
Beth Phoenix
Big Boss Man
Booker T
Bret Hart
British Bulldog
Brutus "The Barber" Beefcake
Christian
Diamond Dallas Page
Diesel
Edge
Goldberg
Greg "The Hammer" Valentine
Ivory
Jacqueline
Jake "The Snake" Roberts
Jim "The Anvil" Neidhart
Kevin Nash
Lex Luger
Lita
Million Dollar Man Ted DiBiase
Mr. McMahon
Mr. Perfect
Papa Shango
Ravishing Rick Rude
Razor Ramon
Rick Martel
Ricky Morton
Rikishi
Robert Gibson
Scott Hall
Shawn Michaels
Sting
Sycho Sid
Tatanka
The Godfather
Roster Reveal Episode #3 Live Stream:
For the complete list of confirmed WWE 2K19 characters so far and their respective profiles, you can visit our WWE 2K19 Roster Section, featuring all the Superstars and Women from Raw, SmackDown, NXT and 205 Live, as well as Legends, announced so far for the game.