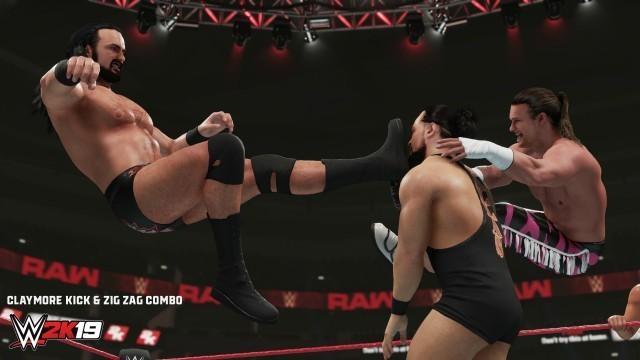 The latest WWE 2K19 patch, Title Update 1.03, has been released on PS4, Xbox One and PC. It adds support for the upcoming "New Moves Pack" and addresses several issues.
Below you find the official patch notes, along with something else we noticed was included in the update (as not everything is listed in the official notes).
WWE 2K19 1.03 Patch Notes (PS4 / Xbox One / PC):
Universe mode
The proper menu displays when using a Superstar unlocked via VC and assigning them a custom title in a show. Also, the title will no longer soft crash when attempting to load into the edited show.
No additional manager will appear when customizing a normal match with managers and then switching to another Superstar with two managers.
Fixed issue with normal matches with managers when the target menu would appear when selecting participants for an entrance run-in. The target menu no longer appears, and if a match participant is selected for a normal match with managers, their opponent will be automatically the target of the entrance run-in.
Gameplay
Fixed soft crash when using some specific side plate designs in a custom title and then assigning that title to a Superstar with custom side plates.
MyPlayer
Fixed issue with players not receiving a new move when purchasing from the store and closing out of the game during the loading screen immediately after. Now players that do this will retain their VC and are free to purchase that move again if they like.
Towers
Players are now able to reverse the A.I.'s signature and finisher after a comeback has been successfully performed in the Million Dollar Tower.
Entrances/Victory
It is now possible to select Triple H's "King of Kings" music in Create An Entrance/Victory, which was previously unselectable
New Tag Team Entrances, Victory Scenes, Entrance Videos & Theme Songs have been added for 3 Tag Teams:

The Show: Dolph Ziggler & Drew McIntyre
The Sami and Kevin Owens Show: Sami Zayn & Kevin Owens
Deleters of Worlds: Matt Hardy & Bray Wyatt
These entrances are not yet available and will most likely be unlocked with the New Moves Pack.