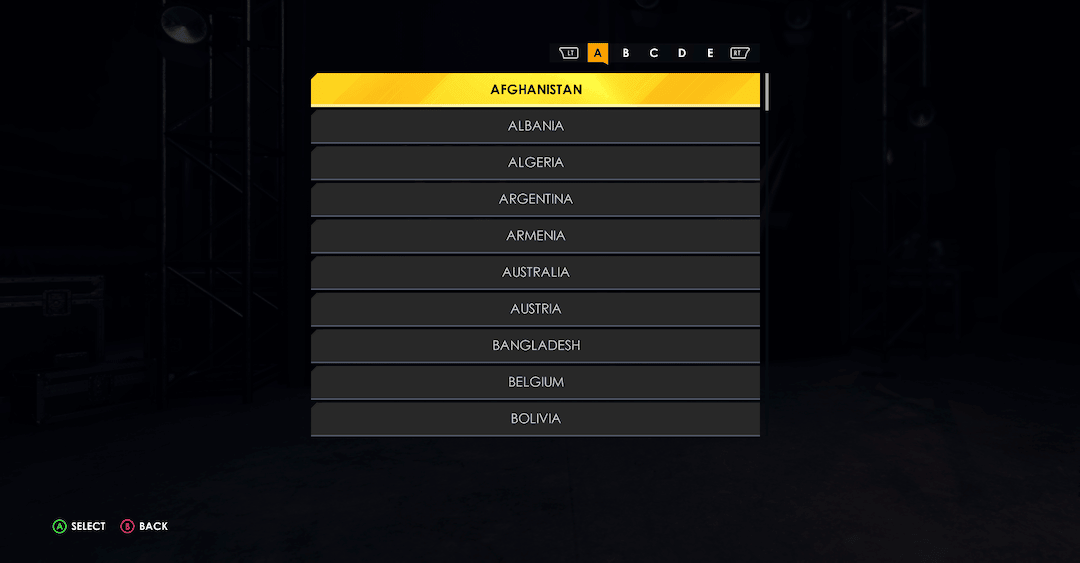 A small, but still crucial, part of the MyPlayer experience, as well as for CAW creators who make superstars, is the array of custom hometown options in WWE games. Reflective of the wild and eclectic cast of characters in the company's history, your character can hail from Uzbekistan, Sin City, and even Parts Unknown just like the Ultimate Warrior.
The full list of hometowns in WWE 2K22 will be presented here, in alphabetical order, with all countries and other miscellaneous categories presented alongside each other.
Some categories have subdivisions, such as Mexico, which has Monterrey and Tijuana as options under the "None" category. It should be noted that all countries, as well as US states, by default have the single option of being presented standalone if one desires, such as if you want someone to be from "Afghanistan", rather than "Kabul, Afghanistan". Few countries don't have any cities at all, such as Kenya.
Otherwise, this list will give a comprehensive look at the custom hometown options in the game, if you want to prepare ahead of time for your CAWs or MyPlayer character.
WWE 2K22 Custom Hometown Options List:
A
Afghanistan - Kabul
Albania
Algeria - Algiers
Argentina - Buenos Aires
Armenia - Yerevan
Australia - Adelaide (listed as Adelaide, South Australia), Black Forest, Brisbane, Gold Coast, Melbourne, Sydney
Austria - Vienna
B
Bangladesh - Dhaka
Belgium - Brussels
Bolivia - Sucre
Brazil - Belo Horizonte, Rio de Janeiro, São Paulo
Bulgaria - Sofia
C
Cambodia - Phnom Penh
Canada - Alberta (listed as Calgary, Alberta), British Columbia (includes Abbotsford, Burnaby, Coquitlam, Vancouver), Manitoba (listed as Winnipeg, Manitoba), Ontario (includes Toronto, Windsor), Quebec (includes Marieville, Montreal), Niagara Falls (selected through "None")
Chad - N'Djamena
Chile - Santiago
China - Anhui, Beijing, Hong Kong, Shanghai, Tianjin, The People's Republic of China (two "None" options, pick the first one)
Colombia - Bogota
Costa Rica - San Jose
Croatia - Zagreb
Cuba - Havana
Czech Republic - Prague
D
Denmark - Copenhagen
Dominican Republic - Santo Domingo
E
Egypt - Alexandria, Cairo
El Salvador - San Salvador
England - Birmingham, Blackpool, Chelsea, Dudley, Leeds, London, Manchester, Newcastle Upon Tyne, Norwich, Wolverhampton (listed as Wolverhampton, West Midlands)
Ethiopia - Addis Ababa
F
Fictional - Authority Megacorp HQ, Neo-Osaka, The Internet, Another Time, Area 51, Asgard, Avalon, Babylon, Camelot, Chroma City, The City of Atlantis, Dudleyville, The Edge of Reality, El Dorado, Elysian Fields, Every Man's Nightmare, The Fifth Dimension, The Garden of Eden, Limbo, Mount Olympus, Moustache Mountain, The North Pole, The Other Side of Darkness, Out Of This World, Overseas, Pangaea, Parts Unknown, The Pits of Hell, The Queen City, Shangri-La, Standing 7 Feet Tall, Stillwater, Valhalla, Your Darkest Fears
Fiji - Suva
Finland - Helsinki
France - Grenoble, Paris
G
Germany - Berlin, Cologne, Dresden, Frankfurt, Hamburg, Munich
Ghana - Accra
Greece - Athens
Guatemala - Guatemala City
H
Haiti - Port-Au-Prince
Hungary - Budapest
I
Iceland - Reykjavik
India - Delhi, Haryana, Kolkata, Mumbai, Punjab
Indonesia - Jakarta
Iran - Tehran
Iraq - Baghdad
Ireland - County Wicklow (listed as Bray, County Wicklow), listed under "None" → Belfast (listed as Belfast, Ireland), Belfast (listed as Belfast, Northern Ireland), Bray, Cork, Dublin, Limerick
Israel - Jerusalem
Italy - Milan, Naples, Rome, South Tyrol
J
Jamaica - Kingston
Japan - Hiroshima (listed as Hiroshima, Hiroshima), Kamakura (listed as Kamakura, Kanagawa), Kobe, Kyoto, Oita, Osaka, Tokyo, Yamaguchi
Jordan - Amman
K
Kenya
L
Laos - Vientiane
Lebanon - Beirut
M
Madagascar - Antananarivo
Mali - Bamako
Mexico - Chihuahua (listed as Juarez, Chihuahua), Durango (listed as Gomez Palacio, Durango), Jalisco (listed as Guadalajara, Jalisco), listed under "None" → Córdoba (listed as Cordoba, Veracruz), Guadalajara, Hidalgo, Mexico City, Monterrey, Puerto Vallarta, San Luis Potosi, Tijuana
Morocco - Rabat
Myanmar - Naypyitaw
Miscellaneous - Albania, The Amazon, Amsterdam, Atlanta, Baltimore, Boston, The Bottomless Pit, The Bronze Age, Capital Hill, The Caribbean, Chicago, The City of Angels, Cleveland, The Copper Age, Death Valley, Deep in the Jungle, Detroit, The District of Columbia, East London, The East Side, The Former Soviet Union, The Future, The Good 'Ole USA, The Great Barrier Reef, Hall of Fame City, [Hollywood, CA (Residing)], Houston, Indianapolis, The Iron Age, The Isle of Samoa, The Jersey Shore, Jerusalem, Kansas City, Korea, The Land of the Rising Sun, London, Los Angeles, The Machine Age, [Main Street, USA], Mars, Mexico City, Miami, The Middle Ages, Milwaukee, Minneapolis, Montreal, Moscow, The Navajo Nation, The Nearest Nightclub, New York City, Niagara Falls, No Place in Particular, The North Side, The Old Country, Pacific Islands, The Past, Philadelphia, Pittsburgh, Pittsburgh (Born in), Plaza de Toros, The Polynesian Islands, The Red-Light District, The Renaissance, The Rocky Mountains, San Diego, San Francisco, Seasonal Residences, The Shang Dynasty, Sin City, [Smalltown, USA], The South Side, St. Louis, The Stone Age, Sydney, Tokyo (by way of), Toronto, The United Kingdom, Vatican City, Wall Street, The Wasteland, The West Side, Wherever He Wants, Wherever She Wants, The Wild West, The 50's, The 60's, The 70's, The 80's, The 90's
N
Nepal - Kathmandu
Netherlands - Amsterdam
New Zealand - Auckland, Wellington
Nigeria - Benue State, Lagos
North Korea - Pyongyang
P
Pakistan - Islamabad, Karachi, Lahore
Peru - Lima
Philippines - Manila
Poland - Oleśnica, Warsaw, Wroclaw
Portugal - Lisbon
Puerto Rico - San Juan (listed automatically upon selection/no "None" option)
R
Romania - Bucharest, Transylvania
Russia - Moscow, St. Petersburg
S
Saudi Arabia - Riyadh
Scotland - Aberdeen, Ayr, Ayrshire, Edinburgh, Glasgow
Serbia - Belgrade
Singapore
Somalia - Mogadishu
South Africa - Cape Town, Pretoria
South Korea - Pusan, Seoul
Spain - Barcelona, Madrid, Valencia
Sri Lanka - Colombo
Sudan - Khartoum
Switzerland - Geneva, Lucerne, Zurich
Syria - Damascus
T
Taiwan - Taipei
Tanzania - Dodoma
Thailand - Bangkok
Turkey - Istanbul
U
Uganda - Kampala
Ukraine - Kiev
Uruguay - Montevideo
Uzbekistan - Tashkent
USA:
Alabama - Birmingham, Huntsville, Mobile, Montgomery, Wadley
Alaska - Anchorage, Fairbanks, Juneau
Arizona - Glendale, Mesa, Phoenix, Scottsdale, Tucson
Arkansas - Little Rock, West Memphis
California - Anaheim, Beverly Hills, Concord, Fontana, Fresno, Hollywood, Huntington Beach, Long Beach, Los Angeles, Northridge, Oakland, Rancho Cucamonga, Redondo Beach, Rio Linda, Riverside, Sacramento, San Diego, San Francisco, San Jose, Toluca Lake, Venice, Venice Beach, West Hollywood
Colorado - Aurora, Colorado Springs, Denver, South Park, Westminster
Connecticut - Fairfield, Greenwich, Hartford
Delaware - Dover
Florida - Boca Raton, Brooksville, Celebration, Cocoa Beach, Hollywood, Jacksonville, Live Oak, Miami, Orlando, Palatka, Palm Beach, Palm Springs, Panama City, Pensacola, Ponte Vedra Beach, Sarasota, Tampa, West Palm Beach
Georgia - Atlanta, Austell, Badstreet, Atlanta, Cobb County, Columbus, Gainesville, Marietta, Stone Mountain, Warner Robins
Hawaii - Honolulu, Kona
Idaho - Boise, Nampa, Twin Falls
Illinois - Aurora, Chicago, Lake Forest, Oak Park, Springfield
Indiana - Evansville, Fort Wayne, Indianapolis, Lafayette
Iowa - Cedar Rapids, Davenport, Des Moines
Kansas - Kansas City, Topeka, Wichita
Kentucky - Lexington-Fayette, Louisville, Paducah, Whitesburg
Louisiana - Baton Rouge, New Orleans, Shreveport
Maine - Augusta, Bangor, Westbrook
Maryland - Annapolis, Baltimore, Hagerstown
Massachusetts - Arkham, Boston, Salem, Tyngsboro, West Newsbury, Worcester
Michigan - Ann Arbor, Battle Creek, Detroit, Grand Rapids, Hope, Traverse City
Minnesota - Champlin, Forest Lake, Milwaukee, Minneapolis, Robbinsdale, St. Paul
Mississippi - Biloxi, Jackson, Pearl River
Missouri - Jefferson City, Kansas City, St. Louis
Montana - Billings, Great Falls, Helena
Nebraska - Lincoln, Omaha
Nevada - Carson City, Las Vegas, Reno
New Hampshire - Concord, Manchester
New Jersey - Asbury Park, Bellville, Camden, Cherry Hill, Elmwood Park, Glen Ridge, Hackensack, Hackettstown, Jersey City, Newark, Nutley, Rutherford, Shamong
New Mexico - Albuquerque, Roswell, Santa Fe, Truth or Consequences
New York - Albany, Amenia, Brooklyn, Buffalo, Chinatown, Fulton, Glens Falls, Harlem, Long Island, Manhasset, Manhattan, Mount Sinai, New York, Ozone Park, Queens, Rochester, Saratoga Springs, Scarsdale, Staten Island, Yonkers, Yorktown Heights
North Carolina - Asheville, Burlington, Cameron, Charlotte, Durnham, Greensboro, Hickory, Kill Devil Hills, Pembroke, The Port City, Raleigh, Sanford, Sherills Ford, Smithfield
North Dakota - Bismarck, Fargo
Ohio - Akron, Baywood, Cincinnati, Cleveland, Columbus, Dayton, Toledo
Oklahoma - Edmond, Norman, Oklahoma City, Perry, Tulsa
Oregon - Eugene, Hubbard, Portland, Salem
Pennsylvania - Allentown, Erie, Harrisburg, Nesquehoning, Philadelphia, Pittsburgh
Rhode Island - Pawtucket, Providence
South Carolina - Charleston, Columbia, Orangeburg, Parris Island
South Dakota - Pierre, Rapid City, Sioux Falls
Tennessee - Knoxville, Memphis, Nashville
Texas - Amarillo, Arlington, Austin, Borger, Dallas, Denton, El Paso, Fort Worth, Harlingen, Houston, Laredo, Rio Grande Valley, San Antonio, Silsbee, Sweetwater, Victoria, Wichita Falls
Utah - Salt Lake City, Sandy
Vermont - Essex, Montpelier
Virginia - Alexandria, Arlington, Burke, Charlottesville, Chesapeake, Norfolk, Richmond, Virginia Beach
Washington - Aberdeen, Everett, Kent, Seattle, Spokane, Tacoma
West Virginia - Charleston, Hanover, Pineville
Wisconsin - Fond du Lac, Green Bay, Madison, Milwaukee, Superior
Wyoming - Cheyenne, Recluse
Listed under "None" → Capitol Hill - listed as Capitol Hill, Washington, D.C.
Washington D.C.
V
Venezuela - Caracas
Vietnam - Hanoi, Ho Chi Minh City
The Virgin Islands - Saint Thomas
W
Wales - Brynmawr, Cardiff, Newport, Swansea, Welsh Valleys
West Africa - Ghana
Y
Yemen - Sana'a
---
What do you think of this list of custom hometown options? Should 2K add any more places to the next game, humorous or real-life ones that have gone unmentioned? Let us know below!
For additional Guides on WWE 2K22 check out our WWE 2K22 Guides and Walkthroughs section!