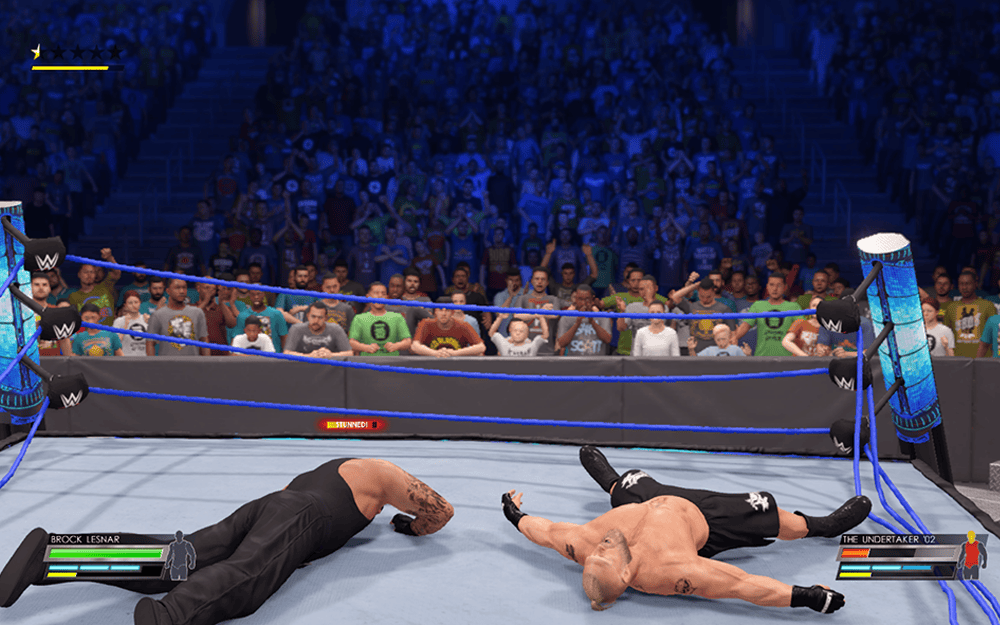 Breaking the Ring with a Superplex has been one of the most iconic things that you were able to do in the latest WWE 2K games. Making the Ring collapse was possible by performing an OMG Moment till WWE 2K20.
In WWE 2K22, the OMG Moments have been reassigned, you can no longer select them in Create-A-Moveset but most of them can now be done by all superstars, or they can still be performed in other ways.
As for the Ring Breaker OMG, we can tell you that it is still possible to break the ring in WWE 2K22, and in this guide, we're going to show you how to do it.
How to Break The Ring in WWE 2K22
To break the Ring in WWE 2K22, you need to play a 1v1 match with a Super Heavyweight Superstar involved. Only with at least one Super Heavyweight in the match, the ring will collapse. Any weight class (Cruiserweight included) vs a Super Heavyweight is a valid option to break the ring.
When you're in the match, you need to do some damage to your opponent by making their body icon at least turn yellow.
At this point, throw your opponent to a corner with an Irish Whip, and press R-up to lift your opponent onto the top turnbuckle.
Lastly, to perform a Superplex that will break the Ring, hold B on Xbox, or hold circle on PlayStation. This will result in making the ring collapse and winning the match by KO.
It's important to note that the ring won't always break on the first try, you may need to try to perform the Superplex a few times before making the ring collapse.
Breaking the ring in WWE 2K22#WWE2K22 pic.twitter.com/MrCxFFzd1T

— The SmackDown Hotel 🔥 #WWE2K22 (@TheSDHotel) March 25, 2022
Super Heavyweights that will make the Ring Collapse in WWE 2K22:
Here's a useful list of all the Super Heavyweight Superstars in the WWE 2K22 Roster. You need to select at least one of them in your match to make the ring break.
Andre the Giant
Big Boss Man
Braun Strowman
Diesel
Ivar
Kane
Kane '08
Keith Lee
Kevin Nash
Kevin Nash (nWo)
Otis
Papa Shango
Tucker
The Undertaker '02
The Undertaker '95
The Undertaker '98