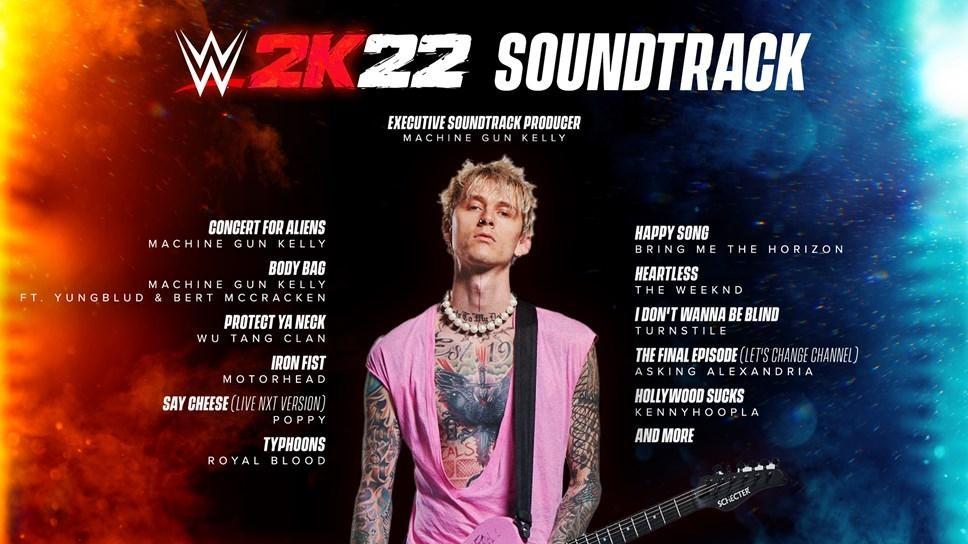 The official WWE 2K22 Soundtrack has just been revealed with a Trailer by the executive producer Machine Gun Kelly.
A longtime WWE fan and multitalented music, film and fashion sensation, Machine Gun Kelly will also appear as a playable character, available in a post-launch DLC Pack for WWE 2K22.
In addition to his roles as Executive Soundtrack Producer and playable character, Machine Gun Kelly also appears in multiple WWE 2K22 marketing campaign videos, interacting with WWE Legend The Undertaker and an array of other colorful Superstars.
WWE 2K22 Soundtrack List
The official WWE 2K22 tracklist, hand-picked by Machine Gun Kelly, includes:
Machine Gun Kelly - "Concert for Aliens;"
Machine Gun Kelly ft. YUNGBLUD & Bert McCracken - "Body Bag;"
Bad Bunny - "Booker T"
Wu Tang Clan - "Protect Ya Neck;"
Motorhead - "Iron Fist;"
Poppy - "Say Cheese" (Live NXT version);
Royal Blood - "Typhoons;"
Bring Me The Horizon - "Happy Song;"
The Weeknd - "Heartless;"
Turnstile - "I Don't Wanna Be Blind;"
Asking Alexandria - "The Final Episode (Let's Change the Channel);"
KennyHoopla - "Hollywood Sucks."
For more info on WWE 2K22 check out the News Section, and for the full updated list of confirmed Superstars for the game, visit the full WWE 2K22 Roster Page.