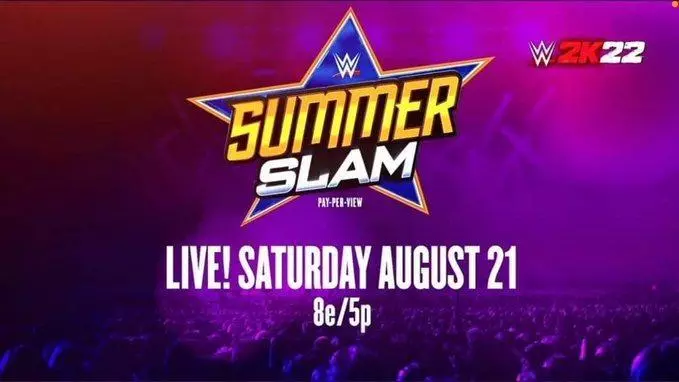 For us wrestling fans, one of the games we have been waiting for more details of how it will hit different in WWE 2K22 especially after the utter dumpster fire that was 2K20.
However, while we have seen some behind the scenes footage of new moves and updated victory motions, everything else we have seen has either been in the prior games or too generic.
But over the weekend, we learned about some new information where 2K could redeem themselves soon and this is what we will be talking about today.
WWE 2K22 Possible New Gameplay Trailer Showing
People who watched Money in The Bank over the weekend may have noticed something during the promo for Summerslam.
This was by looking in the top right corner where the event's date was shown, you would have seen the new logo that was just updated for WWE 2K22.
It gives us wrestling fans a good indication that 2K will have some more details for WWE 2K22 during the Summerslam event, which could be anything from a gameplay trailer to a possible roster reveal and cover star.
This also could be a good chance for 2K to restore some hope with the wrestling games fanbase that WWE 2K22 will indeed hit different this year.
WWE 2K22 Release Date Announcement
Something that may come to the possible reveal at Summerslam is WWE 2K22's Release Date.
But 2K could also plan something and may possibly give 2K22 an earlier release date since over the last few years the yearly game would usually sponsor the WWE PPV in October which has been when the game is released around.
What do you guys think we will see for the reveal from 2K at Summerslam?
Leave your comments down below and thanks for making a stop at The Smackdown Hotel.