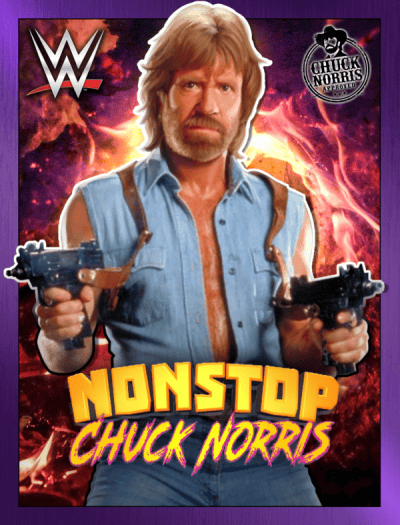 Chuck Norris is featured as a NPC in the WWE Champions Roster, as part of the Extra roster in the New Generation.
Chuck Norris is classed as a Chaotic Trickster in the game.
PROFILE INFO
Character Type

NPC

Gender

Male

Roster

Extra

Nickname / Version

Nonstop (APRIL FOOLS '21!!!)

Era

New Generation

Superstar Class

Trickster

Ability Style

Chaotic

Superstar Tier

S+ Tier

Promoter

Mentor

Alternate Attire

He has none, he's way too powerful as is!

Alternative Versions

Bobby Lashley '20
(He isn't actually playable, he was revealed on April Fools Day 2021 before being officially replaced by Bobby Lashley.)
Serving as the enforcer for the Casket Match between Yokozuna & Undertaker at the 1994 Survivor Series, he isn't afraid to showcase his OP Chun Kuk Do skills, as an interfering Jeff Jarrett soon found out...in fact, he's so powerful, that making him a playable character would LITERALLY BREAK THE GAME! So yeah, he's literally impossible to get. He's just here...just because.
SPECIALS: Specials? He needs none. All of his moves are Finishers!
FINISHERS: Literally every single move he does is a Finisher! Have you SEEN what he did to poor Jeff Jarrett!?!?!?!?
TAG LINKS: New Generation...yeah, that's it. He's way too powerful to form a tag link with anyone else.