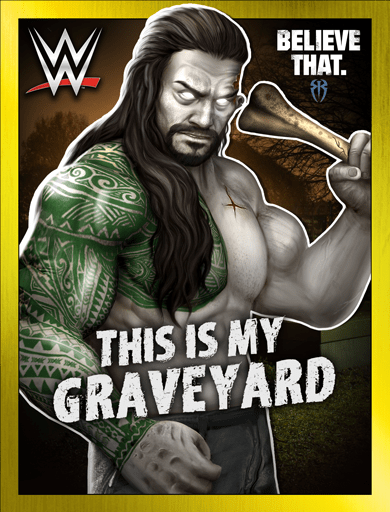 Gender

Male

Nickname / Version

This Is My Graveyard

Alternative Versions

Roman ReignsRoman Reigns '12Roman Reigns '13Roman Reigns '16Roman Reigns '17Roman Reigns '22Roman Reigns '22 (Mutant)

Era

Modern Era

Superstar Class

Showboat

Ability Style

Defensive
Based off his WWE Zombies 2016 figure.
Roman Reigns used to be driven by a hunger for justice and victory. Now, as a zombie, there's only one thing that can satisfy Roman, Brains.
SPECIALS: Spear, Bite, Samoan Drop, One-arm Sitout Powerbomb, Reversal, High Jump Clothesline
FINISHER: Flying Punch
TAG LINKS: Modern Era, Zombies, Zombies 2020, Anoa'i/Maivia Legacy, WrestleMania 35