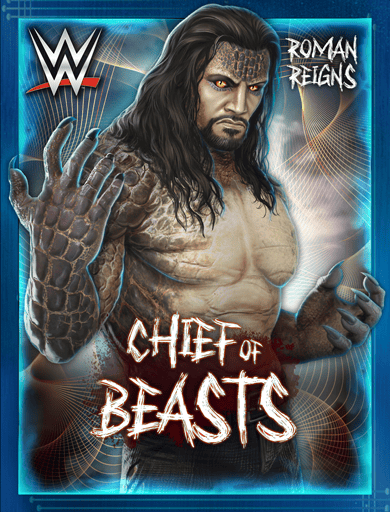 Gender

Male

Nickname / Version

Chief of Beasts

Alternative Versions

Roman ReignsRoman Reigns '12Roman Reigns '13Roman Reigns '16Roman Reigns '16 (Zombie)Roman Reigns '17Roman Reigns '22

Era

Modern Era

Superstar Class

Acrobat

Ability Style

Focused

Real Life Profile

Roman Reigns
Plunging into the murky depths, Roman Reigns could feel a change within him as the mutation took hold. He was still the Tribal Chief, but his tribe had evolved into something dangerous and powerful. Now emerging from the transformative waters, he leads his beastly band in conquest, so that all the world will one day acknowledge him.
SPECIALS: Spinebuster, High Jump Clothesline, Checkmate, Spear, Mutated Open Hand Uppercut
FINISHERS: Mutated Samoan Drop, Guillotine
TAG LINKS Modern Era, WWE Mutants, Anoa'i/Maivia Legacy