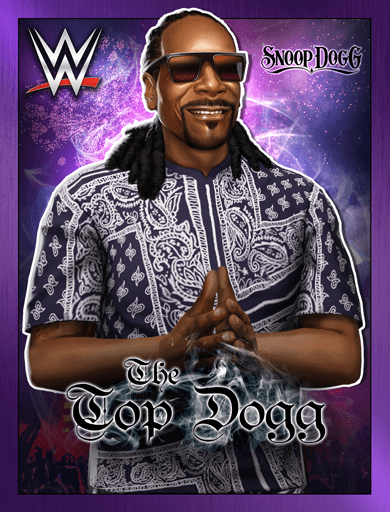 Snoop Dogg is featured as a playable character in the WWE Champions Roster, as part of the WWE Superstar roster in the Modern Era.
Snoop Dogg is classed as a Defensive Trickster in the game.
PROFILE INFO
Gender

Male

Roster

WWE Superstar

Nickname / Version

The Top Dogg

Era

Modern Era

Superstar Class

Trickster

Ability Style

Defensive

Alternate Attire

Master of Ceremonies

Alternative Versions

Snoop Dogg '16 Snoop Dogg '93

Real Life Profile

Snoop Dogg
This is his debut WWE game! The Hall of Famer has also appeared in True Crime: Streets of LA, Def Jam: Fight for New York & The Takeover as "Crow", in Tekken Tag Tournament 2, where he has his own stage and theme made for the game, Way of the Dogg, Call of Duty: Ghosts an a Multiplayer announcer, Family Guy: The Quest for Stuff, Madden NFL 20, NHL 20, and EA Sports UFC 3! He's the second non-wrestler celebrity to appear in Champions!
When he's not laying down the hottest tracks in music, Snoop is an avid member of the WWE Universe, often joining Superstars to create memorable moments. He brought his unique flair to WrestleMania XXIV in Orlando, where he served as the Master of Ceremonies for a unique Lumberjill Match between Maria & Ashley and Melina & Beth Phoenix. Snoop returned to WWE in 2009 as the special guest host of Raw, and the hip-hop star showed that he wasn't afraid to get physical, either, protecting Hornswoggle from a beating at the hands of Chavo Guerrero by stopping the third-generation grappler in his tracks with a huge spear. Snoop Dogg keeps a close eye on WWE to this day, and is arguably the biggest fan of his cousin, "The Boss" Sasha Banks.
S.P.E.C.I.A.L.S.: Ain't No Fun, Drop It Like It's Hot, Gems and Juice, The Next Episode, Snoop Spear, Snoop Slam
F.I.N.I.S.H.E.R.: Dogg Splash
T.A.G. L.I.N.K.S.: Modern Era, The Dogg Pound, Top Doggs