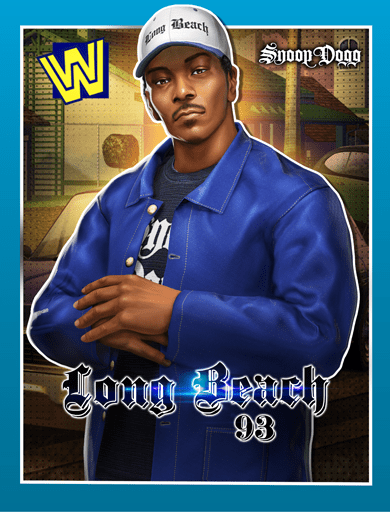 Gender

Male

Nickname / Version

Long Beach '93

Alternative Versions

Snoop DoggSnoop Dogg '16

Era

New Generation

Superstar Class

Acrobat

Ability Style

Focused
The only celebrity with an alternate version!
"Fly as a falcon, soaring through the sky," a young Snoop Dogg began his career's solo flight in 1993, and once his lyrical acrobatics hit the airwaves, it launched a timeless legacy that would change the world of hip hop forever. Snoop's star was on the rise and he was flying high, and now he's using his signature microphone gymnastics to bust heads in the squared circle!
S.P.E.C.I.A.L.S: The Next Episode, Snoop Lionsault, Long Beach Hangover, Gems and Juice, Wishin' Upon a Star, Fly Gangsta
F.I.N.I.S.H.E.R.: Snoop Spear
T.A.G. L.I.N.K.S.: New Generation, The Dogg Pound, Top Doggs