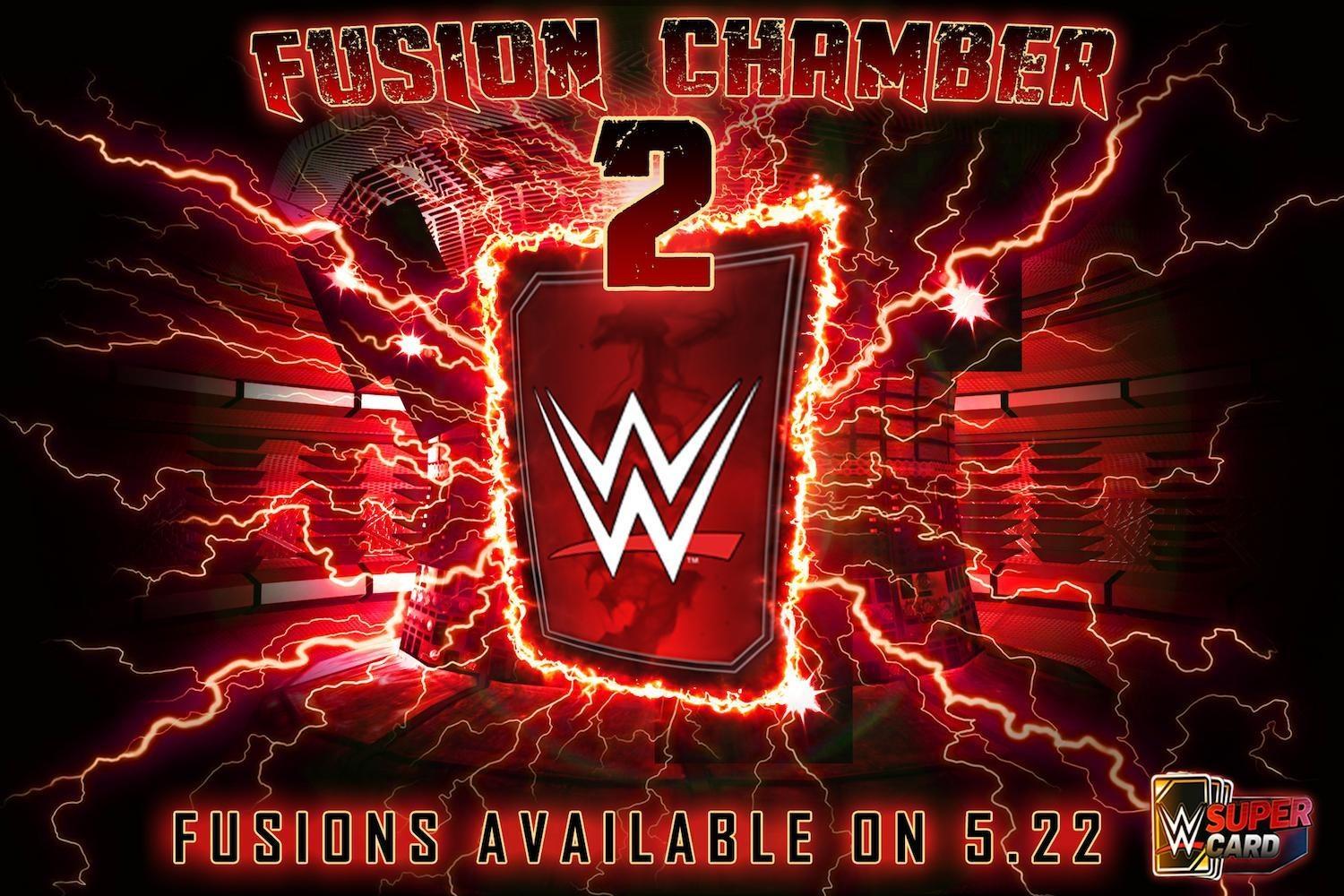 In Season 2 of WWE SuperCard, you can craft Fusion Cards in the FUSION CHAMBER 2 (released May 22, 2016), which is available on the main menu screen. Fusion cards add a new element of strategic diversity to the game, allowing for dramatic outplays against the mightiest of cards. Just as importantly, they're a sure-fire way to improve your deck and help you hit your competitive goals during events.
In Season 2, Fusions require points to create, not a specific set of "base"cards like in Season 1. Just drop the cards you want to use as crafting fodder into the appropriate Chamber slots. When you have enough points, you can create a Fusion. You do not need to train cards before using them to create fusion cards and they can be any card of that level, including support cards.

Every time you want to move up to forge a stronger level of Fusion, you'll need to use a Fusion from a prior tier. For example, to make an Uncommon Fusion you'll need to start off with a Common Fusion.

Once you choose to craft a Fusion, a timer begins with its length depending on the rarity of card you're crafting. You can only create one Fusion card at a time.

Fusion Chamber 2 offers several Fusions for each tier (Common through WrestleMania Fusions) as well as one Mr. McMahon Support Card that increases all stats available in all tiers.

Fusion cards are amongst the highest rated cards in each tier, and it is also possible to create Fusion Pros. Season 2's Fusions have been balanced to be able to compete with Event cards in certain tactical scenarios. Event cards can, of course, still beat Fusion cards.
Fusion Chamber 2: Requirements & Rewards
Common Tier
Points needed: 20 Points
Time required: 15 minutes
Rewards: Eva Marie, Goldust, Roddy Piper, Stardust, The Miz
Uncommon Tier
Points needed: 50 Points
Time required: 1 hour
Rewards: Adam Rose, Cameron, Daniel Bryan, Jack Swagger, Jake Roberts
Rare Tier
Points needed: 150 Points
Time required: 2 hours 30 minutes
Rewards: Dolph Ziggler, Emma, Ric Flair, Rick Rude, Ted DiBiase
Super Rare Tier
Points needed: 340 Points
Time required: 8 hours
Rewards: Alicia Fox, Bayley, Bray Wyatt, Cesaro, King Barrett, King Booker
Ultra Rare Tier
Points needed: 640 Points
Time required: 1 day
Rewards: Kane, Naomi, Natalya, Ryback, Sgt. Slaughter, Shawn Michaels
Epic Tier
Points needed: 1135 Points
Time required: 2 days
Rewards: Alberto Del Rio, Brie Bella, Heath Slater, Neville, Ricky Steamboat, Sasha Banks
Legendary Tier
Points needed: 2060 Points
Time required: 3 days
Rewards: Becky Lynch, Bret Hart, Finn Balor, Jim Neidhart, Paige, Rusev, Sheamus
Survivor Tier
Points needed: 3755 Points
Time required: 4 days
Rewards: Charlotte, Dean Ambrose, Edge, Kevin Owens, Nikki Bella, Randy Orton, Roman Reigns, Seth Rollins
WrestleMania Tier
Points needed: 7025 Points
Time required: 5 days
Rewards: Brock Lesnar, Steve Austin, Undertaker, John Cena, The Rock, Randy Savage, Triple H, Trish Stratus, Lita
SummerSlam Tier
Points needed: 12515 Points
Time required: 6 days
Rewards: Sami Zayn, Shinsuke Nakamura, Big E, Bo Dallas, Samoa Joe, Asuka
All Tiers Reward
Support Card: "Chairman and CEO" Mr. McMahon

Fusion Chamber 2 FAQ:
Q: How do you change tiers for Fusion Chambers?
Swipe to the side to change chambers.
Q: Does it make any difference what levels the cards are when they go into the Fusion Chamber?
No, but Pro Cards add more points compared to regular cards.
Q: Do Fusion cards give any more XP when training?
Q: Can Fusion cards be combined with other non-Fusion cards to make a Pro?
This needs confirming, but since Fusion cards are different to normal cards, they can probably only be used to Pro with identical Fusion cards.
Q: Can the cards I put into the Fusion Chamber influence what I get back? For example, putting support cards into it means I'm more likely to get the support.