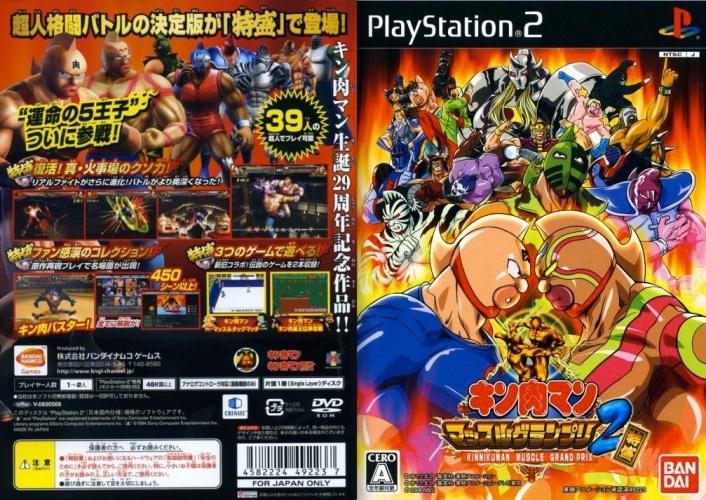 Game Series

Japanese

Release Date

June 21, 2007

Additional Releases

September 25th, 2008 (Tokumori re-release)

Platforms

PlayStation 2Arcade

Publisher

Bandai

Developer

AKI Corporation
Published by Banpresto, and Bandai Namco Games.
Kinnikuman: Muscle Grand Prix 2 is an Action game, developed and published by Banpresto, which was released in Japan in 2007. The re-release, Kinnikuman Muscle Grand Prix Max 2: Tokumori is a Sports game, developed by Aki Corp. (Now known as syn Sophia) and published by Bandai Namco Games, which was released in Japan in 2008.
Roster
Kinnikuman
Terryman / The 2nd Kinnikuman Great
Robin Mask
Warsman / Kuroe
Ramenman / Mongolman / Messiah
Blocken Jr.
Wolfman
Pentagon
Benkiman
Geronimo
Kinnikuman Soldier
Kinniku Mantaro
Kevin Mask
Terry the Kid
Jade
Scarface
Check Mate
Ilioukhine
Barrierfreeman
Buffaloman
Springman
Stecasse-King
Black Hole
The Mountain
Mister Khamen
Atlantis
Akuma Shogun / Goldman
Ashuraman
Sunshine
The Ninja
Junkman
Planetman
Snigator
Kinnikuman Super Phoenix
Kinnikuman Zebra
Kinnikuman Mariposa
Kinnikuman Big Body
Neptuneman
Big the Budou / Neptune King