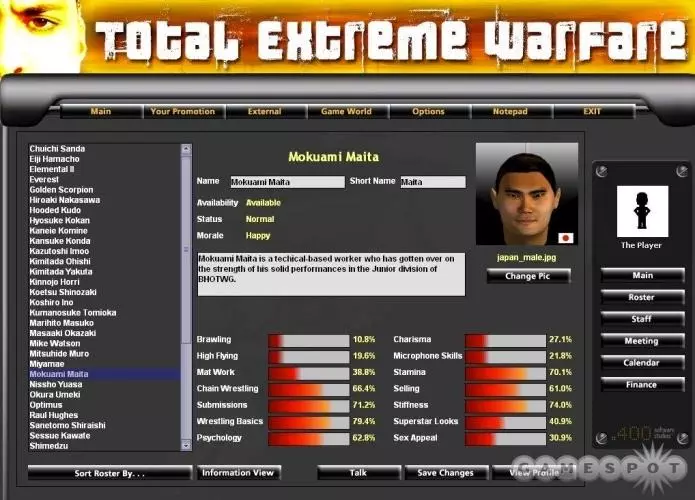 Developed by Adam Ryland, published by .400 Software Studios. Formerly known as "Total Extreme Warfare 2004".
Total Extreme Warfare is the new wrestling management simulator from Adam Ryland, creator of the critically acclaimed Extreme Warfare Revenge series. Taking on the role of a wrestling promoter, it is up to you to try and steer your chosen company to the top of the industry, along the way dealing with prima donna superstars, wars with rival companies, and the demands of TV companies! Based on the global wrestling scene, Total Extreme Warfare takes some of the ideas and features first presented in Extreme Warfare Revenge, and take them to the next level. Combining the decade of experience that Adam Ryland has in creating fan-friendly wrestling simulators with the quality that people have come to expect from .400 Software Studios, Total Extreme Warfare gives fans who are bored with the tired genre of button-bashing arcade wrestling games the chance to use their wits as they play the most richly detailed wrestling simulator ever created.
TEW '04 expands the game world to outside North America, and include promotions from Japan, Mexico, the UK, and Australia to name a few new areas. With this, each worker's overness was expanded from a single value in EWR, to a series of values depending on areas of the world.
The AI was changed in that now users could see what matches other promotions have booked as well as their financial details and deals. More contract causes were added such as medical coverage and travel expenditure. Deal decisions were now made over time rather than immediate.
Also added was a multi-player feature, allowing users with different promotions to now play against each other. Also, booking was enhanced and was now time-based, meaning that matches that went beyond the show's intended run time was now impossible. Users can also edit cards more easily. Also included were Create-A-Match, and Create-A-Gimmick.