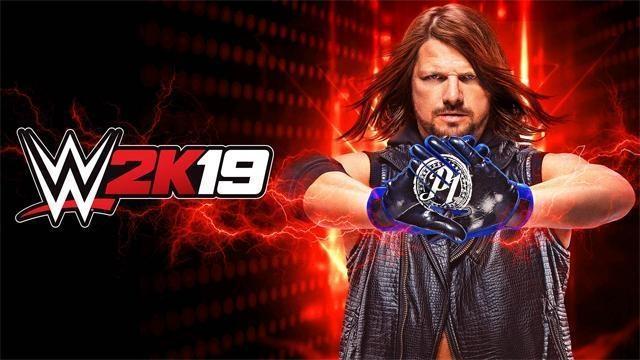 The official Cover Star of WWE 2K19 has been unveiled, and the announcement is... Phenomenal.
During today's WWE 2K19 press conference, it was revealed that the Superstar to be featured in the Cover of the upcoming videogame is none other than the current WWE Champion, The Phenomenal One AJ Styles.
It was also announced that WWE 2K19 will be released on PlayStation 4, Xbox One, and Windows PC on October 9, in both the Standard and Deluxe Editions.
When they purchase their copy later this year, players will also be able to choose from multiple editions of WWE 2K19. 2K introduced multiple premium editions of this year's game, which include:
The WWE 2K19 Deluxe Edition, which contains a copy of the game with special packaging and access to Season Pass, Pre-Order and Collector's Edition digital content.
The WWE 2K19 Collector's Edition, which contains the same features as the Deluxe Edition plus exclusive and rare collectibles, as well as limited-edition WWE SuperCard content.
Players who purchase one of these premium editions will also receive Early Access to their game copies and in-game bonuses beginning four days early on Friday, October 5, 2018 for the PS4™ system, Xbox One and Windows PC.
WWE 2K19 Million Dollar Challenge
2K also disclosed initial plans for the groundbreaking WWE 2K19 Million Dollar Challenge. In a call to action issued by Styles today, eligible entrants can participate in the international contest via PS4 and Xbox One in four steps:
Beat a to-be-announced new mode in the game;
Submit a winning promotional video that shows why you will beat AJ Styles in WWE 2K19;
Make it to the semifinal round of competition and beat the other three semifinalists in WWE 2K19;
As the finalist, compete one-on-one in WWE 2K19 against AJ Styles – and defeat him – to win one million dollars.
Additional details surrounding the WWE 2K19 Million Dollar Challenge are available at wwe.2k.com/milliondollarchallenge/rules, with further announcements to come later this year.
"As a hardcore gamer and ambassador of everything it means to 'Never Say Never' in both my professional and personal life, it is a dream come true to be selected as the WWE 2K19 cover Superstar," said AJ Styles. "From Seth Rollins last year to Dwayne "The Rock" Johnson, John Cena, Stone Cold Steve Austin and Brock Lesnar, I am honored to join this incredible list of past WWE 2K cover Superstars and put my own unique stamp on the franchise. Get ready to join me in the virtual ring, because WWE 2K19 and the WWE 2K19 Million Dollar Challenge will be nothing short of phenomenal!"
"With AJ Styles at the helm, we're putting 'Never Say Never' to the ultimate test with WWE 2K19 and the WWE 2K19 Million Dollar Challenge," said Chris Snyder, Vice President of Marketing for 2K. "Each year, we work to deliver the best in WWE product authenticity, gameplay, modes, customization and creative control, and this year will be no different for our passionate worldwide fan base. Buckle in and get ready, as we have some big surprises in store this year!"

More details about WWE 2K19, including any pre-order bonuses and DLC content, will be announced at a later time. For more information visit our WWE 2K19 News Section.