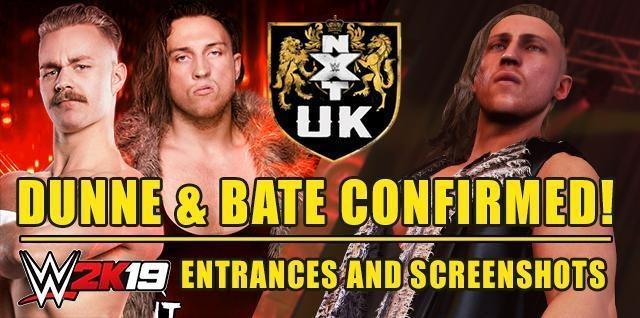 Two of NXT UK's finest have been revealed for the WWE 2K19 Roster!
Current WWE United Kingdom Champion Pete Dunne and NXT Superstar Tyler Bate announced from NXT UK Birmingham at Insomnia63 Gaming Festival, that they are the first NXT UK Superstars confirmed to appear in the game, thus making their debut in the series.
"As WWE expands globally, we want the WWE 2K roster to reflect those changes as much as possible," said Sean Conway, narrative designer at Visual Concepts. "A lot of fans requested Pete Dunne and Tyler Bate be added to the WWE 2K roster, and we weren't surprised given how much success they've had early in their careers and the amazing matches they've had against one another. All things considered, there were no better options to select for our first NXT UK roster additions."
Check out screenshots and videos of Pete Dunne and Tyler Bate making their entrances in WWE 2K19 here below!
SCREENSHOTS
PETE DUNNE ENTRANCE
TYLER BATE ENTRANCE
This is just the first part of the WWE 2K19 Roster Reveal, so stay tuned on our website and social media as more characters will be revealed very soon!
For more info on WWE 2K19 check out the News Section, and the WWE 2K19 Roster Page to see all the Superstars confirmed so far.