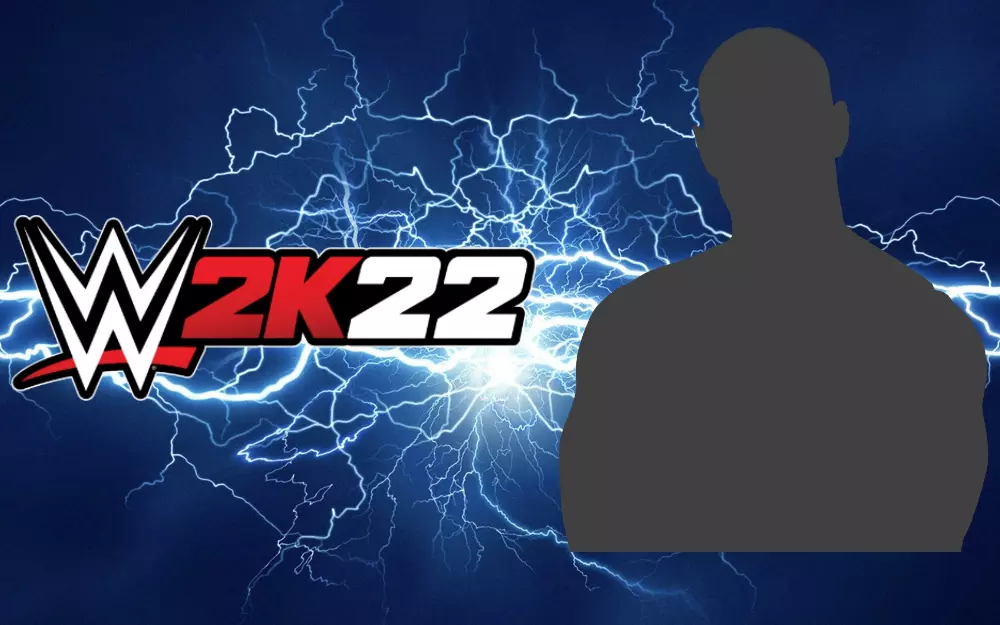 With the recent release of WWE 2K22, it is in the interest of many to begin working with the game's creation suite, whether it be with CAWs, entrances, and tag teams.
Historically, WWE 2K creations have been among the best in all of gaming for their wide variety of creation parts and eccentricity, unmatched by most other games. And of course, the community aspect has always honed in on making the experience better, and for this upcoming cycle, some new tools made by members within the community will be available for use, and in turn, make your WWE 2K creations and experience all the more authentic.
Universe Random Events Generator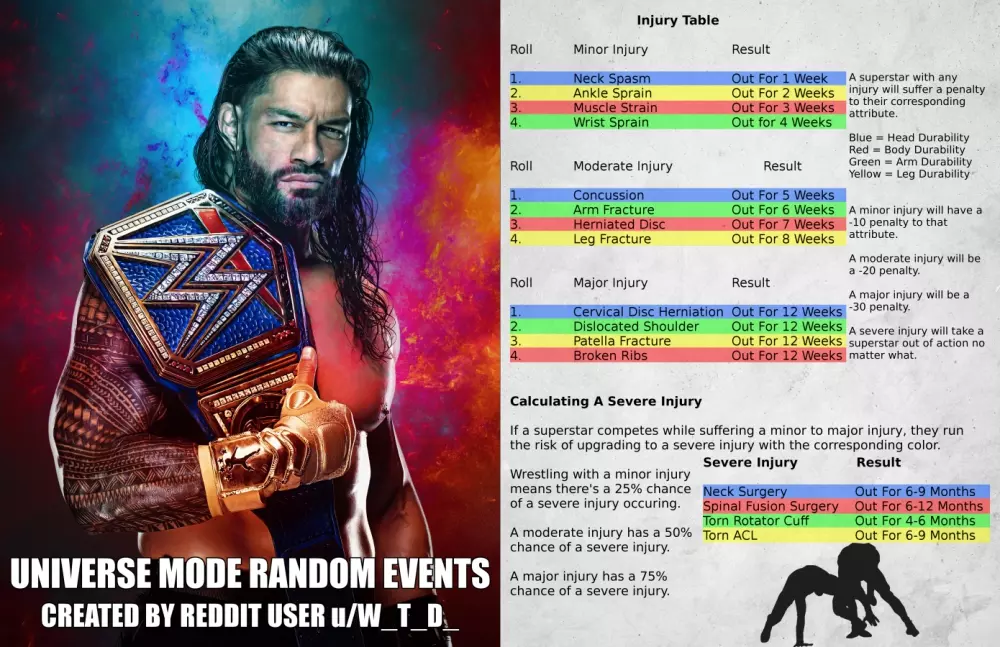 Crafted recently by Reddit user u/W_T_D_, the Random Events Generator assists fans of Universe Mode who want to add some randomness to their save file. As real-world WWE storyline can change in an instant, with injuries, signings, and PPVs throughout the year, capturing this presence will be optimal for gamers who want to replicate how the product functions in real life. When it comes to making WWE 2K creations, this one will truly make your Universe mode transcend space and time.
Ideal for use once every in-game month, this tool provides scenario ideas you can use for different facets of your experience, whether it be in singles matches, with teams, or injuries. The cream of the crop comes at the end of the generator's file, with a whopping 100 different events that can provide some uniqueness to in-game storylines. Perhaps an open challenge for the Women's Championship will mark Paige's return from injury, a new Shield will come out of NXT, or Edge's last push to become WWE Champion will begin before retiring again, all possibilities with this tool at hand.
The link to the original post is here, with the PDF file being available here.
CAW Face Texture Tutorial
Small-time creator Pro2K CAW has made a video on his YouTube channel of how you can create accurate face textures for your CAWs, whether it be the Iron Sheik, Kazuchika Okada, or even Kanye West.
Their tutorial, linked here, indicates the programs needed to create such CAWs, with virtually no cost involved. For Android users, another tutorial is available through the content creator known as Phenomenal Club, which can be seen here.
To find a face template, it is recommended to look up "Defract face reference" on Google, which itself comes from notable content creator Defract.
It should be noted that changes to said apps can happen at any time, given their independence from us, though as of this article's making, is viable for all to use.
Custom Superstar Renders for WWE 2K22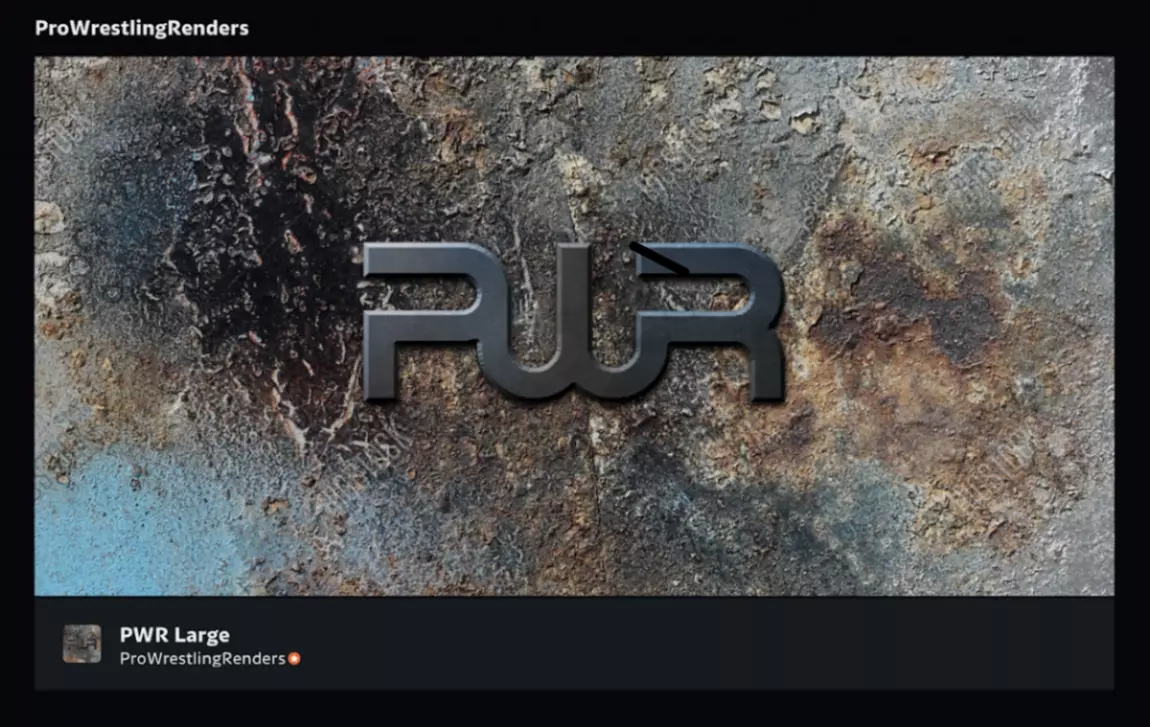 A new feature introduced in WWE 2K22 will be the option to add custom renders to CAWs, a feature that already has been used quite amusingly by people in the community.
Someone to look out for if you need a render is the Deviantart page ProWrestlingRenders, which holds a whole slew of renders of wrestlers from the present, as gear switches up quite often, and even legends of the past, stretching as far back to names such as Abdullah the Butcher, and Stu Hart.
In blistering HD, their work has not gone unnoticed and will be a valuable asset to those who want renders for their WWE 2K creations this year. A quick search online of your favorite superstar will likely be all you need to find the next ready-for-use render in your personal save.
Custom Titantron Creator
And lastly, experienced WWE content creator and fellow colleague Smacktalks' tutorial on how to make custom titantrons remains one of the best guides to follow on the matter. Unknown to most, though very easy when put into practice, it involves the use of going to WWE 2K's official image uploader, followed by uploading the image you want to use and then plastering it onto a custom video.
An in-depth guide can be viewed in their respective video. This is quite useful for those who want their WWE 2K creations, such as CAWs, or even teams/stables, to have a layer of authenticity to them, and an entrance titantron beyond the generic preset one in the game.
WWE 2K Creations: The Future
Personally, I'm extremely excited for the future of WWE 2K creations and content. With the graphics looking better than ever, and the advent of new modes and features, it is very possible that old favorites like Universe Mode, as well as revamped ones like MyGM, will be able to deliver a game worthy for the next generation of consoles because of community-made content and tools.
We hope ahead of WWE 2K22's release that you and other content creators can use tools like these for your Universe, and custom-made content no matter how crazy it may be. And of course, we'll see in the upcoming months if the hype is lived up to, that's all folks!