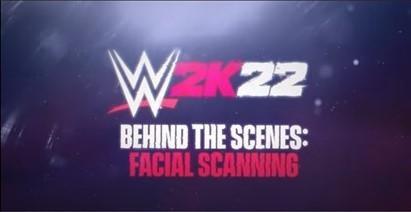 Just yesterday the second 2K Dev Diary Episode was released on the official YouTube channel with this one going over the scanning process. So in this article, we will be going over the details from the video along with the confirmation of 2 new stars to the 2K22 roster.
New Scanning Process
To begin the official 2K Dev account revealed on Twitter that this year they have updated their scanning technology by adding 80 high-resolution cameras and having new software to map everything to a high-precision 3D sculpt.
The way that the superstars and legends are scanning for their in-game models is by having the 80 cameras all together in a circular arrangement before they are used to take pictures of the subject inside.
This is then run for specialist software to stitch those pictures together to create a high-resolution 3D sculpt of the subject as well as a 360 photo with is then mapped onto the in-game model.
Once the first scan is complete, the subject is then asked to perform various facial animations as these will be scanned as well so the specialist software is able to capture the way that the subject's facial muscles move when that certain expression is made which helps portray this expression digitally when those expression made in the game.
New Legends Scans
As we see during this process, the superstars taking part in this scanning session are The Nature Boy Ric Flair and Booker T which gives us a good indication that these stars will receive updated models in-game.
First Scanning Superstar Confirmed
However, these guys are not the only ones as revealed by WWE 2K's Executive Producer Patrick Gillmore that 2K have been scanning stars in both the US and Europe and they haven't captured as many superstars in 5 years
He also said that to be able to scan at a moment's notice, they built a second trailer to be sent to Orlando and Tampa however they needed to test it in California before asking the fans to guess who was the first superstar for be scanned for this year's game.
Finally, Patrick then revealed that the superstar who volunteered to be scanned for the game with the new technology was none other than Former Women's Champion Bayley which should a good sign that she will also have an updated model to go along with her heel character.
Here is the full video from the WWE 2K Dev Official YouTube Channel for anyone interested in taking a look at it.
What do you guys think about the latest 2K22 Behind The Scenes Video?
Leave your comments down below and thanks for reading.