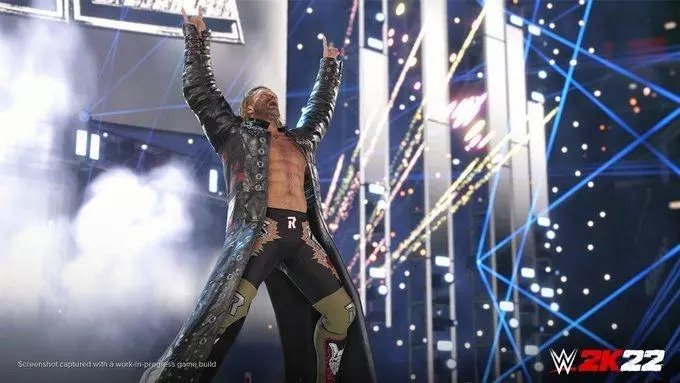 We finally have some new solid details about WWE 2K22 via their Twitter Account which includes some new screenshots, a new updated model, and more information about WWE 2K22 sponsoring SummerSlam.
So in this article, we will be going over all of the WWE 2K22 details that the WWE Games Account on Twitter showed off today.
WWE 2K22 Edge Screenshots Revealed
One thing that WWE Games revealed today on Twitter was 2 screenshots showing off a character model in an arena that looks like one of the Thunderdome Arenas used by WWE in the second half of 2020 in the in-game engine.
Another detail to note is the use of motion blur within the screenshots, which does look nice as this helps make the other items in the screenshots stand out. It looks like the screenshots don't have crowd currently in the build that 2K used.
One of the Edge screenshots appears to show off more of the arena's stage as well as the pyro and lasers going off in the background which when put together makes a pretty stunning image.
While the screenshots do look impressive and certainly have more details than the prior 2K WWE Games, these WWE 2K22 screenshots were taken using a build of the game that is currently still a work in progress so we will need to wait and see what the final game build is like when that is revealed.
Updated Edge Character Model
The superstar shown off in the screenshots turns out to be WWE Hall of Famer Edge who finally has an updated model. The model features his current look since he made his return at the 2020 Royal Rumble, and has a lot more detail when comparing this model to the one he had in WWE 2K20.
In these screenshots, Edge's attire seems to be the one that he wore at Backlash 2020 when he fought Randy Orton at the event in The Greatest Wrestling Match Ever.
The second screenshot gives us a better look at Edge's character model, which lets us see that the overall model has much more details - such as Edge's facial features, which appear to be a lot clearer than before with the higher resolution used in the screenshot.
One thing that people will be happy to see is also the detail with Edge's hair which does already look more realistic than in the past 2K WWE Games. However, we won't be able to make a fair judgment on the in-game hair and its physics until we see the hair in motion.
WWE 2K22 SummerSlam Reveal
If you were watching last month's Money In The Bank PPV, then you would have possibly seen the promo announcing SummerSlam's venue and date but something else that you could see was the WWE 2K22 logo.
From this information and the radio silence from WWE Games about 2K22 - apart from some behind-the-scenes videos and an initial trailer at WrestleMania, fans started speculating that another trailer was going to be shown off at SummerSlam. However, there were no official details from WWE Games supporting this theory.
But along with the screenshots, WWE Games said on Twitter that fans should "Tune in to SummerSlam for more WWE 2K22".
This gives fans a good reason to watch Summerslam this weekend to see if 2K and Visual Concepts can turn around the ship after the events of WWE 2K20.
What do you guys think of the recent screenshots and news?
Leave your comments down below and thanks for checking into The Smackdown Hotel.