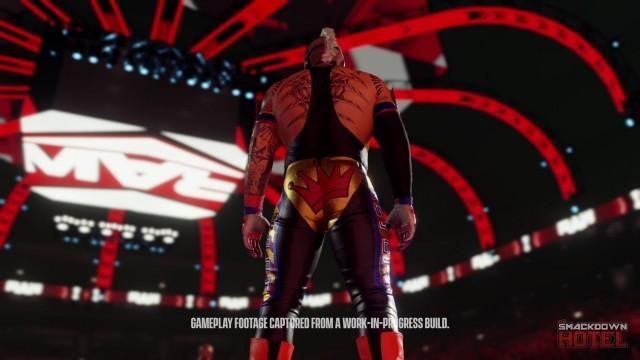 Once again we wrestling game fans are still waiting for new solid information about WWE 2K22 as most of the details talked about have either been just pure speculation or things that will have already been seen in prior games.
This week, we have heard some details about this year's game from the well-known journalist Brian Mazique who is best remembered for covering the WWE and NBA 2K series who supposedly revealed some new details about WWE 2K22 during one of his recent live streams which include the game's roster, reactions of gameplay from 2K and what he calls a brand new game mode in development.
So in this article, we will be going over all of the details he talked about during the livestream however while Brian does say that all of these details are fact, none of these details have been confirmed by 2K or Visual Concepts at the moment.
WWE 2K22's Roster Deadline
One thing that wrestling fans have been concerned about is the WWE 2K22 Roster, as it seems like every week WWE is releasing more and more people from their roster with people wondering how big is this year's roster going to be.
However, during the livestream Brian did bring up this issue and reassured fans that there is a certain deadline from the yearly game's roster and once it is passed, nobody else can be taken out or added in however he did mention that the only way that a superstar can be removed after the deadline is by a special request from WWE themselves.
At the moment according to reports, there is only 1 superstar that WWE has asked to be pulled from 2K22 and that is Daniel Bryan since his contract expired in April and is rumored to jump ship to AEW later in the year.
Unlike the other details that were brought up in the live stream, this one does actually have some weight behind it as during the initial behind the scenes footage videos on the WWE2KDev YouTube Channel, WWE Hall Of Famer Ric Flair was shown in those videos however at the beginning of this month, he was granted his release from WWE but he will still be in 2K22 until by the request of WWE.
So from these details, that is still a good chance of the majority of the superstars released this year will be in 2K22 regardless.
WWE 2K22's "Fantastic Gameplay"
Wrestling game fans have also been waiting for the reveal of a proper gameplay trailer which would really help 2K attempt to gain the fanbase after the events of 2K20 however currently 2K have remained quiet about the so-called improved gameplay.
Brian stated during the stream that he has heard from representations from 2K that have played the current build of 2K22 and its gameplay "Fantastic" and the new controls were cleaner than they could ever be with the representation supposedly saying that "This year's game is a wrestling fans' game."
However this should be taken with a pinch of salt as obviously at this point, no one in 2K would say anything negative about the gameplay and the response is as vague as they can make it so we will just need to wait and see when the gameplay trailer eventually is shown off.
Huge New Game Mode Coming?
Finally, to end this article, we have the speculation of a brand new game mode in development by Visual Concepts by Brian during the video which he called "My Faction" while not talking about any further details about this so-called brand new huge game mode.
Brian does however say that this game mode is similar to the NBA 2K series' "My Team" feature where players spend virtual points to open up card packs for the chance of receiving their favorite basketball players to build the best team that they can.
If this is true, this new mode would be similar to WWE's popular mobile game WWE Supercard and could be a good way to spice up the game after no really revolutionary game modes have been added for the last few years.
However, at no point did Brian say that My Faction is in development for WWE 2K22 so this may be something that we see implemented in a future title.
Here is the video of Brian's livestream for anyone who wants to see it for themselves.
(WWE 2K22 part starts around the 16-minute mark).
What do you guys think about the recent news during Brian's Livestream?
Leave your comments down below and thanks for checking into The SmackDown Hotel.