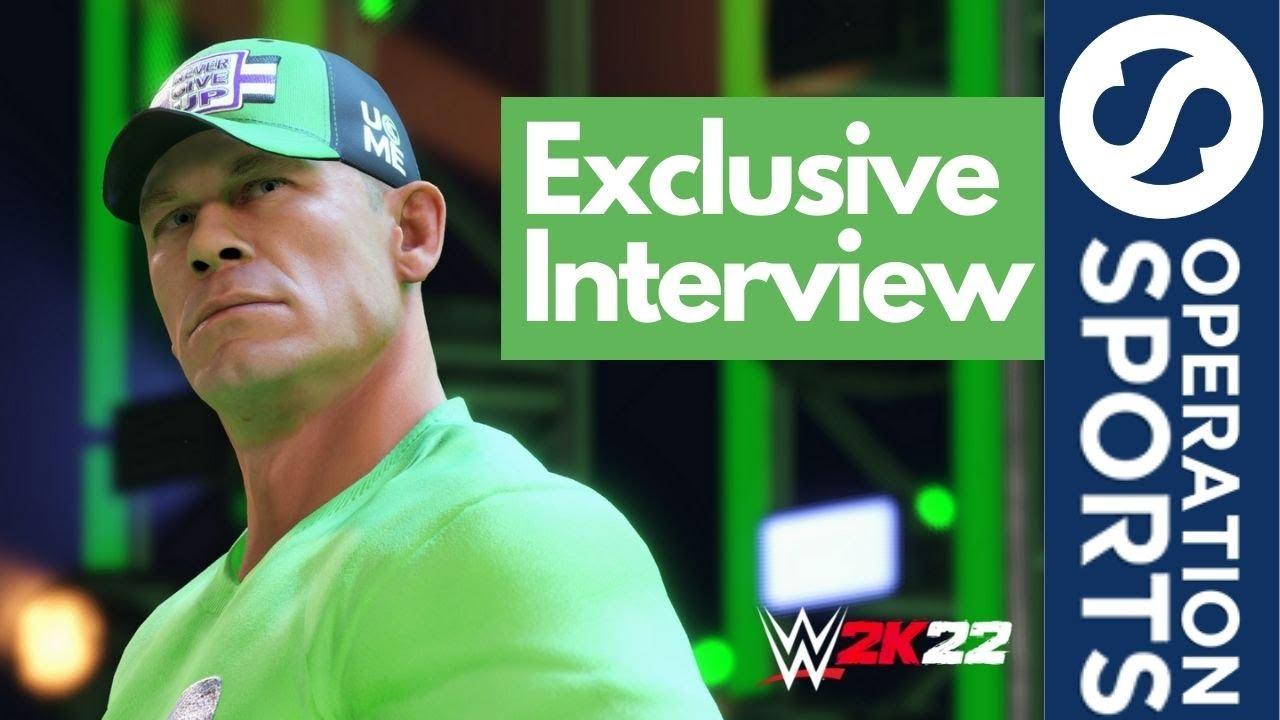 On January 20, 2022, there was a WWE 2K22 interview with Creative Director Lynell Jinks, and Art Director Christina Diam Pham, hosted by Brian Mazique of Operation Sports.
In that interview, we learned a lot of new details about WWE 2K22 and got some insight into some of the new features and improvements we can expect to see when it releases on March 11, 2022.
WWE 2K22 Gameplay Details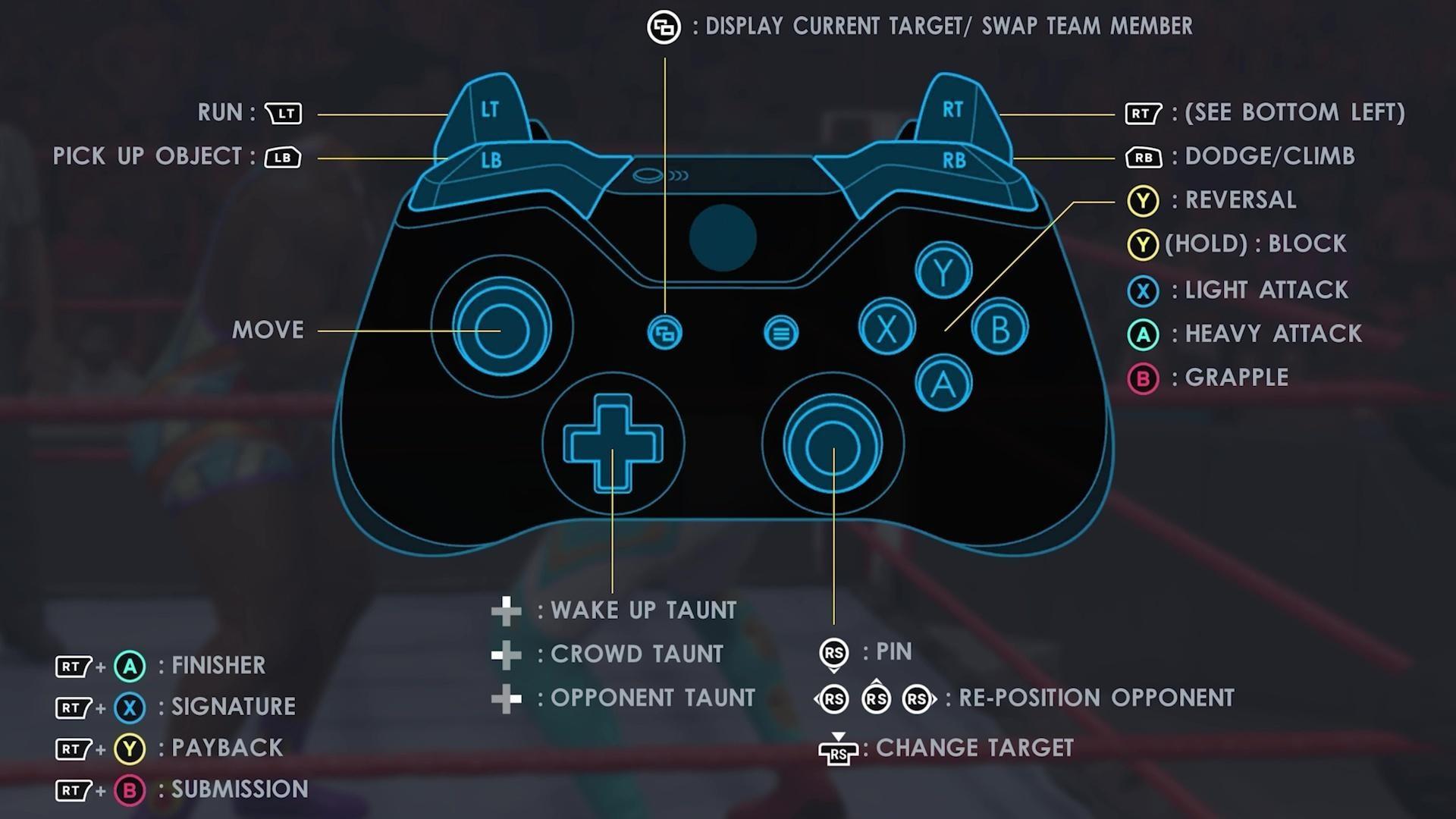 "The one word I would use is Competitive..."

- Lynell Jinks
WWE 2K22 has changed the controls to allow for increased accessibility to those picking up the game for the first time, while still offering some strategy and skill for more seasoned players. This year it seems to be much more than simply "moving buttons around" and we have covered a list of all the new controls here.
There are no limits to reversals this year, as well as new Block and Dodge mechanics that should make matches more competitive and fluid instead of draining an opponent of their reversals and then unleashing free shots. These elements should allow for more fast-paced and unpredictable gameplay where battles between two skilled players would closely resemble a PPV quality match.
The pin kick-out system has also been updated, with a return to a button-mashing mini-game in order to kick out of a pin.
Taking inspiration from modern fighting games, each individual Superstar now has Combos and the controls sound much more in-depth than ever before and are the foundation they plan on building on for years to come.
With these changes in pace and controls, it will be interesting to see how playing a Super Heavyweight would differ from Cruiserweight, and if there are perks and abilities that perhaps help give each Superstar a different style.
WWE 2K22 Creation Suite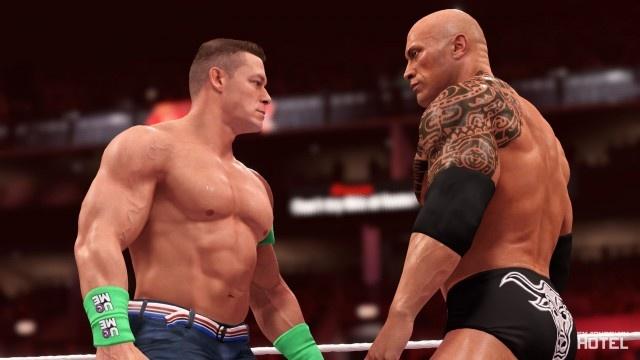 "We focused on making sure we are providing the users with high quality artwork they can customize 'til their hearts content."

-Lynell Jinks
This year the development team has been focused on providing exceptional quality for all the different options in this year's Creation Suite. In the past, they have tried to provide the users with too many different options and in the end, lost some of the polish that other sports games may have. This may mean that there may be a few fewer options this year, but everything that they have included will be on the same level as a professionally designed Superstar.
Setting the bar this high is all in the name of adding immersion into the world of sports entertainment. In a game with such an increase in quality, it would be hard to keep your eye off the hat that still has your hair clipping through it.
In order to help players in making their Created Superstar, 2K has added Personas, a selection of templates that have been designed as a starting point, complete with options to support whatever theme you chose.
Keeping with their themes of quality and immersion is the ability to upload Custom Images for the character select screen so a rendered model is not posed next to a curated picture of a Superstar.
Another massive addition to this year's Creation Suite is Cross-Platform Sharing for Community Creations. This is huge news for those who take the time to make stunning characters or arenas and gives them a platform to truly share it with the world.
Features from years ago such as Create A Finisher and Create A Story will not be making a surprise appearance this year and that is because of the focus on the features they already have and staying true to their place as a wrestling simulation. That isn't to say that it will never happen but just not this year. With all the positive changes they've made already I can hardly blame them for not wanting to fall into the same trap of having more content at the cost of quality.
WWE 2K22 MyGM Mode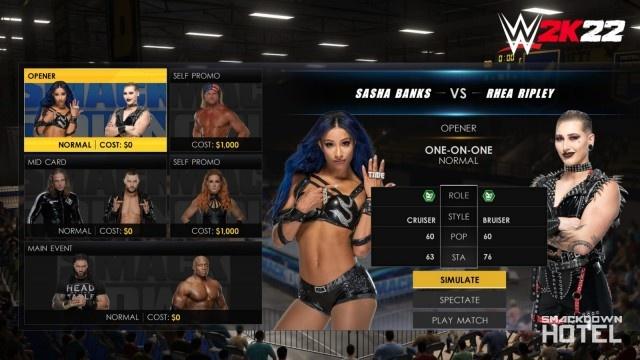 "It's completely different (than Universe Mode)..."

- Lynell Jinks
One fan-favorite Mode from past iterations of the franchise was GM Mode and from the various details discussed during the interview, it will be much bigger than some probably imagined.
Under the guidance of WWE Executives such as Vince McMahon or Triple H, you will have the chance to run your own promotion in a competition for ratings and revenue in WWE 2K's version of Franchise Mode.
You are able to draft your own roster of Superstars or let the game create a balanced mix for you to start with, and the length of the Mode will be 15, 25, or 50 weeks complete with Commissioner Goals for you to aim for. From there you are able to Simulate, Spectate, or Play the matches you set up each week.
Spectate Mode allows you to watch the match, change camera angles and even get involved in the match by distracting the referee or throwing a chair into the ring. The ability to play the matches gives the user some sense of control over their show if perhaps you want to have a Superstar win as part of your grand design.
There is even co-op capability for MyGM with the option to play with a friend who also controls a rival show in the mode. While we still don't have exact details on how this feature works, Lynell Jinks has confirmed that it will be possible to play against a Local Player or Online with someone on our Friends List.
There is also going to be a virtual Social Media feed to let you know what the fans think of your choices and if they approve or not. Sounds like a great example of them not simply bringing it back to make the fans happy and it is more detailed than some of us thought.
WWE Universe: New "Superstar Mode"
In WWE 2K22 Universe Mode, a new option was added called "Superstar Mode".
This gives you the ability to play through WWE Universe by controlling one Superstar and focusing entirely on their storyline and matches.
There is of course still the regular "Sandbox Mode" that allows you to control the entire Universe like previous games.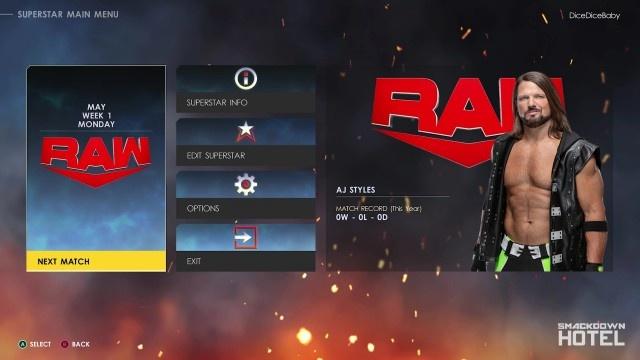 WWE 2K22 MyRise
"You basically walk into the PC (Performance Center) and you're getting your shot..."

-Lynell Jinks
This evolution of MyCareer allows players to take a much more active role in their own stories. You can play as either a Male or Female character and one of the first things you define is your background before your character even joined the WWE.
Are you an MMA fighter? A professional athlete? This is your story and even from just this first choice the characters in the game will remember and comment on it and you have a chance to respond either positively or negatively.
There appears to be a huge amount of control over your own character's destiny as you can pick which brand to get signed to and even change that decision at any time and not get tied down with contracts. The details of this Mode were only touched on briefly but I feel that it won't disappoint.
Final Thoughts...
Like many of you, I was curious if WWE 2K knew what the people wanted but we have spoken and they have listened. From the new engine to the Creation Suite to the return of MyGM Mode I think this will be the biggest positive turn for the series in the last 25 years.
This was a very enlightening interview and you can watch it here and join us on the Hype Train all the way to March 11, 2022!