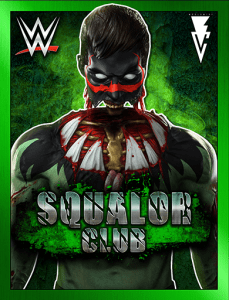 Gender

Male

Nickname / Version

Squalor Club

Alternative Versions

Finn BálorFinn Bálor '15 Finn Bálor '16

Era

Modern Era

Superstar Class

Technician

Ability Style

Chaotic
Based on his WWE Zombies 2018 figure.
There once was a demon king - he was a terror inside the ring. But during a fight, a zombie took a bite, and now he is a demon decaying.
SPECIALS: Decapitator Kick, 1666, Bite, Infected Chop, Gruesome Dropkick
FINISHERS: Coup de Grave, Zombie Attack!
TAG LINKS: Modern Era, Zombies, Zombies 2019, WrestleMania 35