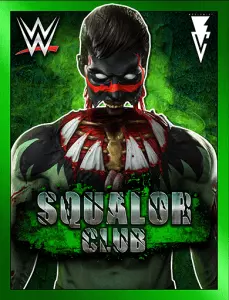 Finn Bálor '18 is featured as a playable character in the WWE Champions Roster, as part of the WWE Superstar roster in the Modern Era.
Finn Bálor '18 is classed as a Chaotic Technician in the game.
PROFILE INFO
Gender

Male

Roster

WWE Superstar

Nickname / Version

Squalor Club

Era

Modern Era

Superstar Class

Technician

Ability Style

Chaotic

Alternative Versions

Finn BálorFinn Bálor '15Finn Bálor '16Finn Bálor '17

Real Life Profile

Finn Bálor / Prince Devitt
Based on his WWE Zombies 2018 figure.
There once was a demon king - he was a terror inside the ring. But during a fight, a zombie took a bite, and now he is a demon decaying.
SPECIALS: Decapitator Kick, 1666, Bite, Infected Chop, Gruesome Dropkick
FINISHERS: Coup de Grave, Zombie Attack!
TAG LINKS: Modern Era, Zombies, Zombies 2019, WrestleMania 35