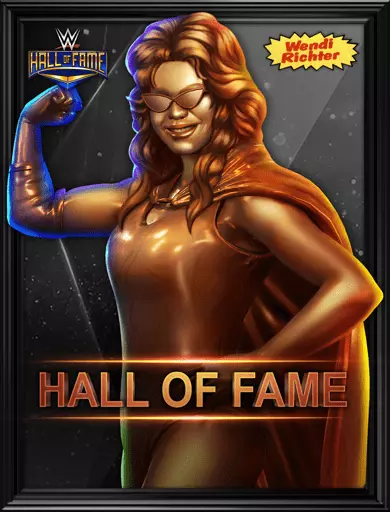 Wendi Richter '10 is featured as a playable character in the WWE Champions Roster in the Hall of Fame.
Wendi Richter '10 is classed as a Focused Striker in the game.
PROFILE INFO
Gender

Female

Nickname / Version

Hall of Fame

Era

Hall of Fame

Superstar Class

Striker

Ability Style

Focused

Alternate Attire

Silver Edition; Gold Edition

Alternative Versions

Wendi Richter

Real Life Profile

Wendi Richter
Before there was Trish Stratus and Lita, there was 1980's squared circle sensation Wendi Richter. A two-time holder of the Women's Championship, Richter was instrumental in helping to bring about the "Rock 'n' Wrestling Connection" between WWE and the MTV generation. This monumental partnership helped the charismatic Diva pave the way for a generation of female competitors to follow and achieve induction into the WWE Hall of Fame.
SPECIALS: Forearm Club, Arm Drag, Scoop Slam, Arm Wrench Yank, Big Boot, Leg Drop
FINISHER: Powerbomb
TAG LINK: Hall of Fame