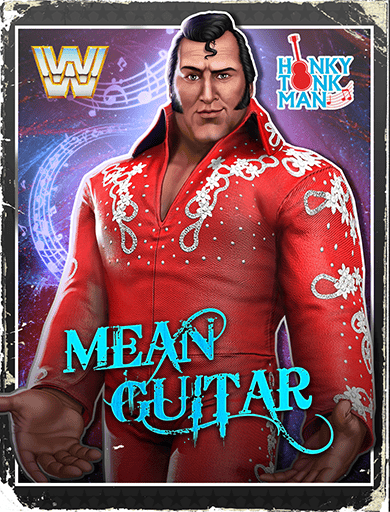 Gender

Male

Nickname / Version

Mean Guitar

Alternative Versions

Honky Tonk ManHonky Tonk Man '19

Era

Legends Era

Superstar Tier

B Tier

Superstar Class

Striker

Ability Style

Defensive

Promoter

Trainer
The Honky Tonk Man's dastardly side helped him rack up victory after victory, earning him a title opportunity against Intercontinental Champion Ricky "The Dragon" Steamboat. Honky used the ropes for leverage to pull off what is still considered one of the greatest upsets in sports-entertainment history. Almost immediately after winning the title, he declared weekly that he was the greatest Intercontinental Champion of all time. While that may not have been the case during his reign's infancy, he built a solid argument by holding on to the title for 454 days.
SPECIALS: Arm Drag, Belly to Back Suplex, Reversal, Arm-Twist Elbow Strikes, Diving Fist Drop, Scoop Slam, El Kabong
FINISHER: Shake Rattle & Roll
TAG LINK: Legends Era